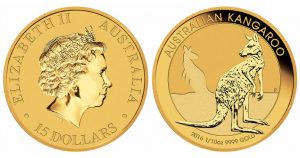 Demand for new Australian bullion coins and bars retreated for a second month in a row, Perth Mint figures for August show, with gold sales the weakest in at least 3-1/2 years and silver sales the lowest in 15 months.
These sales registered against a backdrop of plunging precious metals with LBMA prices in August registering declines of 2.4% for gold and 6.5% for silver.
Reduced sales "reflected the trend for lower volumes reported by precious metal businesses worldwide," the Perth Mint said.
United States Mint bullion sales did see an improvement from the previous month but they were sharply lower than a year earlier.
Bullion Sales in August 2016
Perth Mint sales of gold coins and bars advanced in August by 14,684 ounces, the lowest monthly total since CoinNews started tracking the Mint's data in February 2013. The amount is 13% lower than July and down 56% from August 2015.
Year to date sales at 264,269 ounces are 13.6% higher than the 253,128 ounces delivered during the first eight months of last year.
August sales of silver bullion coins eased to 376,461 ounces for the lowest monthly tally since the Mint sold 337,511 ounces in May 2015. The level is 45.7% lower than sales in July and off 46.8% from those in August of last year. The Perth Mint posted sales above 1 million ounces in every month this year but May, July, and now August.
For the January to August period, the Mint's silver sales of 8,706,064 ounces are 104.1% higher than the 4,265,350 ounces sold during the same months last year.
Perth Mint Gold and Silver Sales by Month
Below is a monthly summary of Perth Mint bullion sales from August 2015 to August 2016. The figures show monthly ounces of gold and silver shipped by the Minted Products division of The Perth Mint to wholesale and retail customers worldwide. It excludes sales of cast bars and other Group activities including sales of allocated/unallocated precious metal for storage by the Depository.
Perth Mint Bullion Sales (in troy ounces)
August 2016
376,461
14,684
July 2016
693,447
16,870
June 2016
1,220,817
31,368
May 2016
974,865
21,035
April 2016
1,161,766
47,542
March 2016
1,756,238
47,948
February 2016
1,049,062
37,063
January 2016
1,473,408
47,759
December 2015
1,083,460
40,096
November 2015
1,145,239
31,664
October 2015
1,751,898
66,951
September 2015
3,349,557
63,791
August 2015
707,656
33,390