A new Royal Canadian Mint 25-cent collectible coin that tells the tale of Vancouver's headless brakeman is nearing a sellout.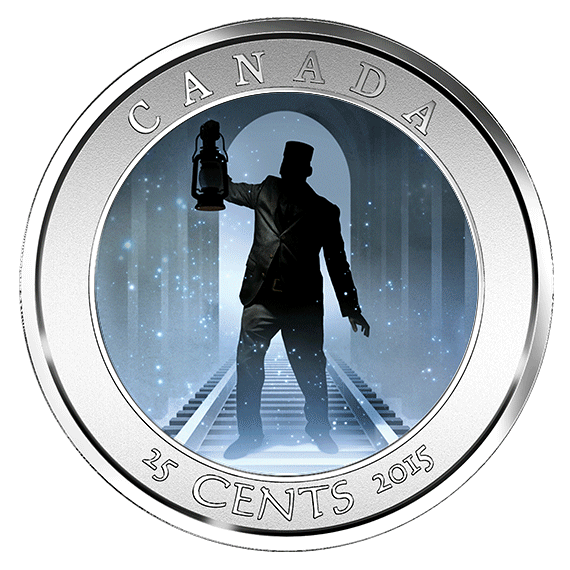 Priced at CAD $29.95, or US $22.66, the 2015 25c Haunted Canada Brakeman coin just reached 93% of its maximum 15,000 mintage.
The 25-cent piece marks the second release from the Mint's Haunted Canada series of lenticular coins, which brings to life some of Canada's legendary ghost stories. The first release, the 2014 25c Haunted Canada Gold Bride Coin, sold out.
This latest issue features lenticular technology to tell the story of the headless brakeman. As described by the Mint:
In one image, the dark train tunnel is suddenly illuminated by the bright glow of a lantern as an otherworldly figure emerges before the viewer, dressed in a railway uniform from 1928. Chillingly, the brakeman appears without a head, with two small, glowing orbs that create the illusion of eyes peering out towards the viewer. When the coin is tilted to the other side, the light suddenly goes out, leaving the viewer alone in the darkness with this shadowy presence, as the ill-fated brakeman continues his eternal walk along the train tracks.
Reverse inscriptions around the design include CANADA, 25 CENTS and the year 2015.
The obverse or heads side offers Susanna Blunt's effigy of Queen Elizabeth II. Obverse inscriptions include ELIZABETH II and D G REGINA.
Each coin has the following Mint-provided specifications:
Mintage: 15,000
Composition: three-ply nickel finish plated steel
Finish: specimen
Weight (g): 0.5
Diameter (mm): 35
Edge: plain
Certificate: serialized
Face value: 25 cents
Ordering
To order the 2015 25c Haunted Canada Brakeman Coin, visit the Royal Canadian Mint's website at www.mint.ca or follow the affiliate link located here
.
Each coin arrives encapsulated and presented in a maroon display case.