Commemorating the disappearance of a nautical expedition over 170 years ago, the Royal Canadian Mint has released the 2015 Franklin's Lost Expedition 1 oz. Fine Silver Colored Coin and it is nearing a sellout.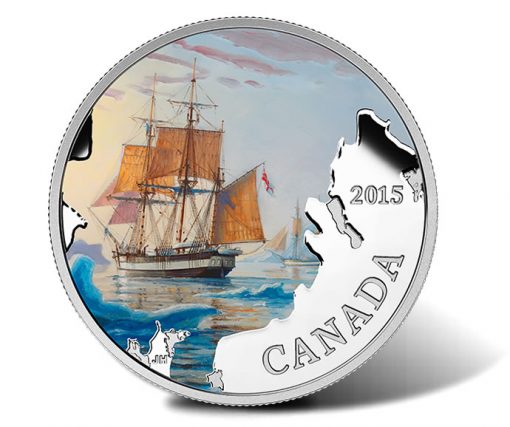 Composed of one ounce of 99.99% pure silver and limited to 7,000, this second $20 silver coin in the Mint's Lost Ships in Canadian Waters series is emblematic of Sir John Franklin's ill-fated attempt to chart the last unknown part of the Northwest Passage. 96% have sold at this writing. The first issue commemorating the RMS Empress of Ireland sold out.
Franklin's Expedition left England on May 19, 1845 with two ships, the H.M.S. Erebus and H.M.S. Terror. Search and rescue operations began a few years later after no word was received on their whereabouts. These led to valuable explorations into the Canadian Arctic, but they only found limited clues about what happened to the original expedition.
The recovery in 1859 of a record in a cairn said both ships became icebound in 1846 in Victoria Strait. It reported that Franklin himself had died on June 11, 1847.
"By the time the ships were abandoned on April 22, 1848, 20 additional officers and men had also perished; the expedition's final word was that the 105 survivors intended to head for the Great Fish River (now known as the Back River)," the Mint describes. "Neither the men nor the ships would be seen again, at least by Europeans, until H.M.S. Erebus was identified in 2014 by Parks Canada."
Each Franklin coin offers a reverse design with H.M.S. Erebus in the foreground and H.M.S. Terror in the distance. The image, by Canadian marine artist John Horton, shows both vessels making their way through icy waters. Inscriptions around the scene include CANADA, 2015 and the artist's initials.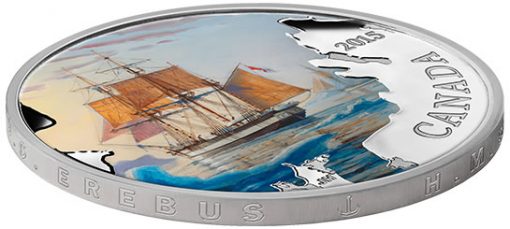 Edge lettering reads "H.M.S. TERROR" and "H.M.S. EREBUS" to identify the two vessels and to commemorate the 129 men who were lost.
These coins are struck as legal tender of Canada and offer Susanna Blunt's effigy of Queen Elizabeth II on the obverse along with inscriptions of 20 DOLLARS and ELIZABETH II.
Ordering
2015 $20 Franklin's Expedition Silver Coins may be ordered directly from the Royal Canadian Mint (mint.ca) for CAD $109.95, or about US $85. An affiliate link to the coin is right here
. There is a 2-coin per household ordering limit.
Each comes encapsulated and is presented in a Royal Canadian Mint maroon display case.