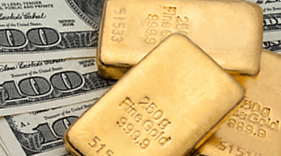 Gold futures settled lower for a second session in a row on Friday but they still advanced for their largest weekly gain in almost two months.
Gold for December delivery shed $2.90, or 0.3%, to end at $1,112.70 an ounce on the Comex division of the New York Mercantile Exchange.
Gold prices posted a 1.7% weekly gain, the most since mid-June. They saw support earlier in the week from improved safe-haven demand, China's devaluation of the yuan, and a weaker U.S. dollar.
"Anytime there's fluctuations in currencies, people still see gold as a safe-haven investment," Michael Smith, the president of T&K Futures and Options Inc. in Port St. Lucie, Florida, said in a telephone interview according to Bloomberg News. "I would think even the people in Europe would buy gold to protect themselves, as their economy slows."
The yellow metal is down 6% since its final settlement last year at $1,184.10 an ounce.
Looking ahead to next week, Kitco News offers the following forecasts via their Wall Street vs. Main Street survey:
"The Kitco News weekly online survey shows that the majority expects to see higher prices in the near-term, after four consecutive weeks of bearish calls. This week, 316 people participated in the survey. Of those, 181 people, or 57%, said they are bullish on gold next week; 88 participants, or 28%, are bearish; and 47 people, or 15%, are neutral…

This week, out of 33 market experts contacted, 14 responded, of which 7, or 50%, said they expect to see higher prices next week. At the same time, five professionals, or 36%, said they see lower prices, and two people, or 14%, are neutral on gold."
Silver for September delivery dropped 19 cents, or 1.2%, to settle at $15.21 an ounce. Prices moved from gains to losses much of the week — down 8 cents on Thursday, up 19 cents on Wednesday, off less than a penny on Tuesday and jumping 47 cents on Monday. Overall, they rallied for a 2.6% weekly increase but they are down on the year by 2.5%.
In other precious metals futures on Friday and for the week:
October platinum edged down $1, or 0.1%, to $994 an ounce, but gained 3.3% from a week ago.

Palladium for September delivery rose $1.80, or 0.3%, to $617.50 an ounce, advancing 3.5% on the week.
For the year to date, both metals are sharply lower — 17.8% for platinum and 22.7% for palladium.
London Precious Metals Prices
London precious metals advanced on Friday and for the week. In comparing London bullion prices from Thursday PM to Friday PM:
Gold edged up $1.50, or 0.1%, to $1,118.25 an ounce.
Silver gained 22 cents, or 1.4%, to $15.55 an ounce.
Platinum rose $9, or 0.9%, to $997 an ounce.
Palladium added $4, or 0.6%, to $623 an ounce.
For the week, gains totaled 2.3% for gold, 3.5% for palladium and 5.4% for both silver and platinum.
US Mint Bullion Coin Sales in August
United States Mint gold sales climbed higher this week. Gold coins moved up 13,500 ounces after last week's 6,000 ounces. Sales splits include 10,500 ounces in American Gold Eagles compared to 5,000 previously and 3,000 ounces in American Gold Buffalo coins compared to 1,000 ounces previously.
Silver coins advanced by 1 million ounces after gaining 1,180,000 ounces last week. For a second straight week, increases came entirely from American Silver Eagles with all America the Beautiful Five Ounce Silver Bullion Coins sold out and the next one not released until Sept. 30. All the Mint's weekly supply of Silver Eagles was claimed, as the agency set their weekly allocation at 1 million coins. Those were gone by Wednesday.
Silver Eagle sales for the year so far at 29,495,000 coins are on a record pace. In 2014 when sales ended at a record 44,006,000, the coins by Aug. 14, 2014 reached sales of 27,713,500. The United States Mint last year also allocated sales of Silver Eagles, but not during the summer months.
Below is a listing of U.S. Mint bullion products with the number of coins sold during varying periods. Products with an asterisk (*) are no longer available.
US Mint Bullion Sales (# of coins)
Friday Sales
Last Week
This Week
July Sales
August Sales
YTD Sales
$50 American Eagle 1 Oz Gold Coins
5,500
4,000
7,500
144,500
11,500
354,500
$25 American Eagle 1/2 Oz Gold Coins
0
0
1,000
10,000
1,000
47,000
$10 American Eagle 1/4 Oz Gold Coins
0
2,000
4,000
28,000
6,000
104,000
$5 American Eagle 1/10 Oz Gold Coins
5,000
5,000
15,000
135,000
20,000
545,000
$50 American Buffalo 1 Oz Gold Coins
500
1,000
3,000
32,000
4,000
132,500
$1 American Eagle 1 Oz Silver Coins
0
1,180,000
1,000,000
5,529,000
2,180,000
29,495,000
2015 Homestead 5 Oz Silver Coins*
–
35,000
2015 Kisatchie 5 Oz Silver Coins*
–
42,000
2015 Blue Ridge Parkway 5 Oz Silver Coins*
–
10,000
–
45,000