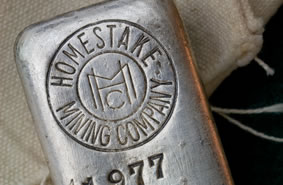 Gold snapped a five session losing streak on Friday, climbing from a 2-month low, but prices still dropped 2% on the week.
Gold for December delivery turned up $4.80, or 0.4%, to settle at $1,280.20 an ounce on the Comex division of the New York Mercantile Exchange.
Gold prices advanced after Federal Reserve Chair Janet Yellen said the U.S. labor market "has yet to fully recover." Earlier in the week, on Wednesday, released minutes from the last FOMC meeting hinted that the Fed could raise interest rates sooner than expected.
"They're trying to bluff the market," Tom Winmill, who helps manage about $220 million of assets in Walpole, New Hampshire, for Midas Funds, said in a telephone interview according to Bloomberg News. "They're trying to warn investors about the potential for rate increases, without actually implementing a rate increase. I think that will strengthen the trading range for gold."
Gold Outlook and YTD
Participants in the latest Kitco News survey tilt bearish for gold prices next week. Twelve expect prices to fall, 8 see prices higher, and 3 see prices trading sideways or are neutral. Kitco News reports that:
"Those who see weaker prices said they expect the softer tone gold developed this week to spill over into the last week of August… Others see gold rebounding, especially since the market is holding 2014 trendline lows…"
Kitco gold survey results last week were divided with expectation splits of 8 up, 8 down, and 4 sideways or neutral.
With the big chunk of losses this week, gains for gold this year have retreated to $77.90, or 6.5%.
Silver, Platinum and Palladium Futures
Silver futures ended lower for a second straight session Friday after trading between gains and losses all week. The metal, in that sense, decoupled from gold. Silver for September delivery fell 3 cents, or 0.2%, to end at $19.39 an ounce. Silver declined 0.7% this week, placing its year year-to-date gain at less than 0.1%.
In rounding out the precious metals complex on Friday and for the week:
October platinum shed 80 cents, or less than 0.1%, to $1,418.50 an ounce. It declined 2.7% from a week ago.

Palladium for September delivery advanced $7.70, or 0.9%, to $887.60 an ounce, but fell 0.8% for the week.
For the year so far, platinum has increased 3.3% and palladium has jumped 23.6%.
London Fix Precious Metals
London precious metals prices were mixed on Friday and for the week. When comparing the LBMA Silver Price and London bullion Fix prices from Thursday PM to Friday PM:
Gold added $2, or 0.2%, to $1,277.25 an ounce,
Silver rose 9 cents, or 0.5%, to $19.49,
Platinum declined $3, or 0.2%, to $1,416 an ounce, and
Palladium added $6, or 0.7%, to $883 an ounce
Gold, silver, and platinum fixings ended down on the week by 1.5%, 1.9%, and 2.1%. Palladium logged a weekly increase of 0.6%.
US Mint Bullion Sales in August
U.S. Mint bullion demand improved versus a week ago, but was down compared to the start of the month when sales soared. In the latest week-over-week comparisons:
Gold coin sales rose 5,800 ounces after climbing 4,000 ounces last week. Splits were 3,800 ounces in American Gold Eagles compared to 3,500 ounces previously, and 2,000 ounces in American Gold Buffalos compared to 500 ounces previously. Gold coin sales surged by 16,000 ounces in the first week of August.

American Silver Eagles advanced 430,000 after gaining 225,000 in the previous week. Silver Eagle sales have slowed since surging 955,000 during the first week of August.

America the Beautiful Five Ounce Silver Bullion Coins were flat for a fourth straight week.

Sales of American Platinum Eagles advanced 300 after gaining 400 in the prior week. The coins are now in their 21st full week of release after a five-year hiatus.
Below is a sales breakdown of U.S. Mint bullion products with columns listing the number of bullion coins sold last week, this week, last month, the month so far, and the year to date.
American Eagle and Buffalo Bullion Sales (# of coins)
Friday Sales
Sales Last Week
Current Sales Week
July Sales
August Sales
YTD Sales
$100 American Platinum Eagle Bullion Coins
0
400
300
0
700
13,600
$50 American Eagle Bullion Gold Coins
0
3,000
3,000
26,000
16,000
240,500
$25 American Eagle Bullion Gold Coins
0
0
0
0
0
27,000
$10 American Eagle Bullion Gold Coins
0
0
0
6,000
2,000
80,000
$5 American Eagle Bullion Gold Coins
0
5,000
5,000
25,000
25,000
410,000
$50 American Buffalo Bullion Gold Coins
0
500
2,000
5,500
6,500
123,500
$1 American Eagle Silver Bullion Coins
0
225,000
430,000
1,975,000
1,610,000
27,713,500
Great Smoky Mountains National Park 5 Oz Silver Bullion Coins
0
0
0
500
0
29,500
Shenandoah National Park 5 Oz Silver Bullion Coins
0
0
0
0
0
20,000
Arches National Park 5 Oz Silver Bullion Coins
0
0
0
1,500
0
20,000