Coin enthusiasts will find several new products from the Perth Mint of Australia that showcase a range of featured subjects. Turquoise, koalas, mother of pearl shell, wedge-tailed eagles, well-known martial artist Bruce Lee, and Spock from Star Trek are among those depicted.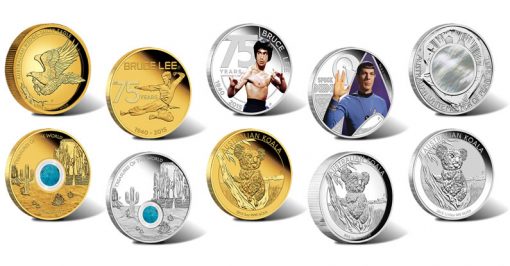 Additional information on the new August coin releases from the Perth Mint is offered below.
2015 Bruce Lee 75th Anniversary Gold and Silver Coins
Celebrating the 75th anniversary of the birth of martial artist, teacher and actor Bruce Lee, the Perth Mint has issued gold and silver coins depicting the icon. The gold coins show Lee in one of his classic martial arts poses while the silver coin offers an image of Lee in color.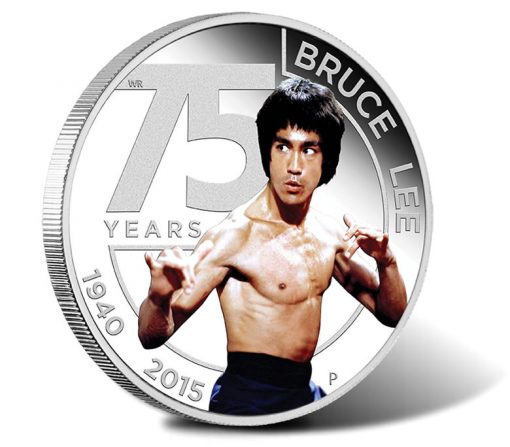 Each gold coin is struck from 1/4 ounce of the precious metal. The silver coin is composed of one ounce. Purity percentages are listed as 99.99% pure gold and 99.9% pure silver. Mintages are capped at 1,000 gold and 5,000 silver.
Affiliate Link to Recent Releases
2015 Australian Koala Gold & Silver Coins
Continuing the Perth Mint's classic Koala series, new gold and silver coins have been issued showcasing reverse designs of the cuddly marsupial. This includes a 5 ounce gold proof coin and two silver coins — a smaller size one in 1/10 ounce and a one-ounce in high relief.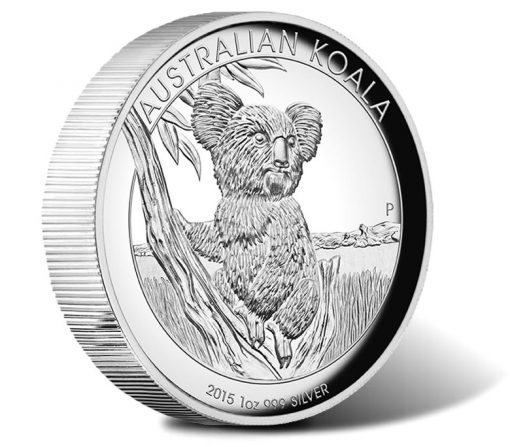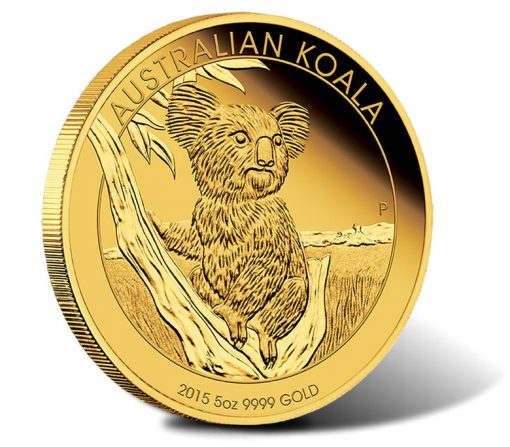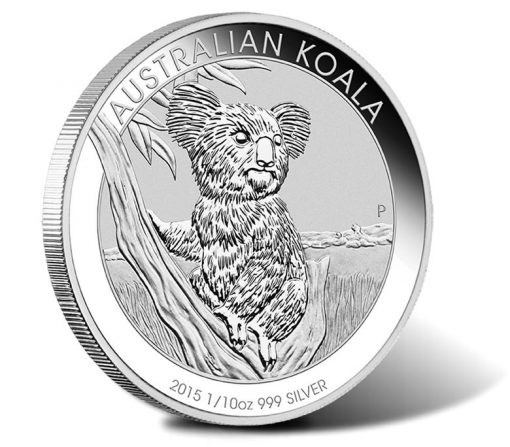 All three offer the same basic reverse design of an adult koala sitting in the fork of a eucalyptus tree as designed by Perth Mint artist Ing Ing Jong. The mintage for the gold coin is capped at 99 units. The high-relief silver coin is restricted to 9,000. No mintage limit has been established for the 1/10 ounce Koala silver coin.
Affiliate Link to Product Page
Star Trek: The Original Series – 2015 Spock Silver Coin
Earlier in 2015, actor Leonard Nimoy passed away. He was best known around the world for his portrayal of the Vulcan Spock on Star Trek: The Original Series. On this new silver proof coin and as we wrote about earlier, we see Nimoy in a color uniform as Spock.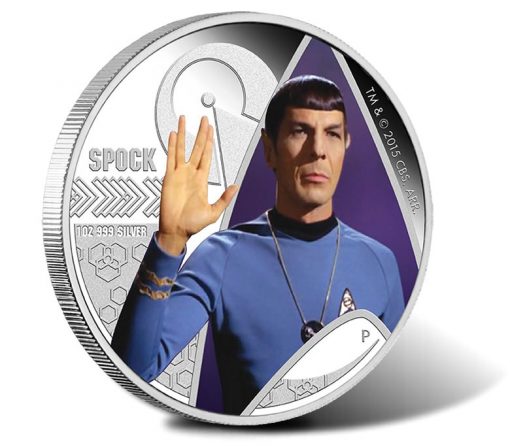 Each coin is composed from an ounce of 99.9% pure silver and issued as part of the Perth Mint's series of Star Trek Silver Coins. Like other issues, it is presented in a Star Trek inspired display case. Mintage is limited to 5,000.
Affiliate Link to Product Page
2015 Wedge-Tailed Eagle 2 oz Gold Proof High Relief Coin
Former United States Mint Chief Engraver John M. Mercanti designed the image of a Wedge-Tailed Eagle which appears on the reverse side of this new gold proof coin. Further enhancing the detail, each coin is featured in high relief.
The $200 legal tender coin is struck from a composition of 99.99% pure gold. Mintage is very limited with only 500 available for purchase. Each ships with illustrated presentation packaging.
Affiliate Link to Product Page
Turquoise Gold and Silver Coins
The latest two coins coin from the Perth Mint's Treasures of the World Series celebrates North America's abundance of turquoise.
This includes a one-ounce gold issue, shown above, and a one-ounce silver issue shown below. Each incorporates a transparent circular locket containing a disc of turquoise.
These coins appear as the third releases in the annual coin program. Maximum mintage is 750 for the gold coin and 7,500 for the silver coin.
Affiliate Link to Product Page
2015 Australian Mother of Pearl Shell Silver Coin
Iridescent mother of pearl is featured on these new silver coins from the Perth Mint. A sculpted representation of an Australian white mother of pearl shell appears on the reverse along with a polished fragment mother-of-pearl centerpiece.
Each coin ships with a Perth Mint display case, an illustrated shipper and a certificate of authenticity. No more than 3,000 of the coins will be sold.
Affiliate Link to Product Page