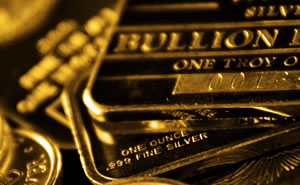 Gold eased Friday after two straight days of gains but prices still closed 1.3% higher on the week. Silver, however, fell 2.1% from a week ago.
In united strength, physical demand for both gold and silver surged. United States Mint weekly bullion sales were the highest in three months for silver coins and the best in six weeks for gold coins. More about that later…
Returning to precious metals, gold for December delivery edged down $1.50, or 0.1%, to settle at $1,311 an ounce on the Comex division of the New York Mercantile Exchange. Declines were attributed to easing tension in Ukraine, despite the onset of U.S. airstrikes in Iraq.
"It's difficult to get overly excited given gold's multiple failures to consistently rally on geo-political events, especially when the volumes behind this move have been rather light," Reuters quoted Edel Tully, precious metals strategist at UBS.
Gold's big turnaround happened on Wednesday when it closed higher for the first time since a week ago, soaring 1.8% on safe-haven demand. Gold prices have advanced $108.70, or 9%, since ending 2013 at $1,202.30 an ounce.
Gold Outlook
Participants in the latest Kitco News survey are bullish about gold prices next week. Eighteen expect prices to rise, 6 see prices lower, and 3 see prices trading sideways are neutral.
"With the tensions in the Russian-Ukrainian conflict rising again this week, an end to a cease-fire between Israel and Hamas and U.S. airstrikes on militants in Iraq, most survey participants said they were expected gold to remain supported. Technical charts also appear to show rising prices," Kitco noted, but also added "A few other survey participants aren't so sure gold will retain its gains on saber-rattling."
Kitco gold survey results last week were mixed with a bearish lean. Expectation splits then totaled 12 down, 8 up, and 4 sideways or unchanged.
Silver, Platinum and Palladium Futures
Silver was hammered with a 43 cent loss this week, and prices have declined in six of the last seven sessions. On Friday, silver futures for September delivery shed 5 cents, or 0.3%, to close at $19.94 an ounce. Recent losses have cut into silver's gains for the year, which are now down to 2.9%.
In other precious metals on Friday and for the week:
October platinum slipped $3.20, or 0.2%, to $1,478.30 an ounce, but prices climbed 1% from a week ago.

Palladium for September rose $4.45, or 0.5%, to $860.50 an ounce, yet prices declined 0.5% on the week.
For the year to date, platinum is ahead by 7.9% and palladium is up by 19.8%.
London Fix Precious Metals
London precious metals turned higher on Friday and were mixed on the week. When comparing the London bullion fix prices from Thursday PM to Friday PM:
Gold gained $4.50, or 0.3%, to $1,309.75 an ounce,
Silver rose 6 cents, or 0.3%, $20.13 an ounce,
Platinum advanced $9, or 0.6%, to $1,475 an ounce, and
Palladium add $5, or 0.6%, to $857 an ounce
Gold and platinum fixings ended up on the week by 1.4% and 0.9%. Weekly losses for silver and palladium totaled 1% and 1.6%.
US Mint Bullion Sales in August
U.S. Mint bullion sales this week compared to last were nearly eleven times higher for gold coins and almost three times higher for silver coins. More telling to demand, silver coin sales are the highest since the week ended May 9 and gold coin sales are the highest since the week ended June 27. In the latest week-over-week comparisons:
Gold coin sales jumped 16,000 ounces after limping in at 1,500 ounces last week. Splits were 12,000 ounces in American Gold Eagles and 4,000 ounces in American Gold Buffalos. Last week, all gold coin sales came from one-ounce American Gold Eagles.

American Silver Eagles surged 955,000 after the past eleven smaller-than-typical weekly gains of 335,000; 615,000; 590,000; 360,000; 395,000; 447,000; 580,000; 675,000; 670,000; 300,000; and 426,500. The coins topped 27 million for the year on Wednesday, keeping a pace that is the second quickest in their 29-year history.

America the Beautiful Five Ounce Silver Bullion Coins were flat for a second straight week.

Sales of American Platinum Eagles were flat for an eighth consecutive week. The coins are now in their 19th full week of release after a five-year hiatus.
Below is a sales breakdown of U.S. Mint bullion products with columns listing the number of bullion coins sold on Friday, last week, this week, last month, the month so far, and the year to date.
American Eagle and Buffalo Bullion Sales (# of coins)
Friday Sales
Sales Last Week
Current Sales Week
July Sales
August Sales
YTD Sales
$100 American Platinum Eagle Bullion Coins
0
0
0
0
0
12,900
$50 American Eagle Bullion Gold Coins
1,000
1,500
10,000
26,000
10,000
234,500
$25 American Eagle Bullion Gold Coins
0
0
0
0
0
27,000
$10 American Eagle Bullion Gold Coins
0
0
2,000
6,000
2,000
80,000
$5 American Eagle Bullion Gold Coins
5,000
0
15,000
25,000
15,000
400,000
$50 American Buffalo Bullion Gold Coins
1,500
0
4,000
5,500
4,000
121,000
$1 American Eagle Silver Bullion Coins
0
335,000
955,000
1,975,000
955,000
27,058,500
Great Smoky Mountains National Park 5 Oz Silver Bullion Coins
0
0
0
500
0
29,500
Shenandoah National Park 5 Oz Silver Bullion Coins
0
0
0
0
0
20,000
Arches National Park 5 Oz Silver Bullion Coins
0
0
0
1,500
0
20,000