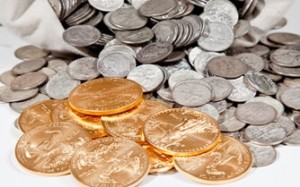 Precious metals tumbled this week, with gold closing at a more than five-year low after seven straight session losses and silver falling for a fifth session in a row to drop further below $15 an ounce.
On Friday, gold for August delivery declined $12, or 1.1%, to end at $1,131.90 an ounce on the Comex division of the New York Mercantile Exchange. The settlement price is the lowest since April 1, 2010 when gold ended at $1,126.10 an ounce.
A large seller on Comex "dumped $1.4 billion of gold futures onto the market," Ross Norman, chief executive officer at Sharps Pixley Ltd. in London told MarketWatch. "We have a peculiar world where the physical market is seeing very strong buying, but a large leveraged speculator is selling at these prices."

But "our Asian colleagues will continue to acquire while the West continues to divest. Who is right we shall only know in the longer term," he said.
Gold prices plunged 2.3% on the week and they are down 4.4% since their final settlement in 2014 at $1,184.10 an ounce. Looking ahead, Kitco News offers the following forecasts via their Wall Street vs. Main Street survey:
"This week, 364 people participated in Kitco News' online survey. Of those, 247 participants, or 68%, expect to see lower gold prices next week; 90 participants, or 25%, see higher gold prices; and 27 people, or 7%, are neutral.

After weeks of indecision and mixed results, most analysts appear to be in agreement that gold prices will move lower in the short-term. Out of 33 market experts contacted, 19 responded, of which four, or 21%, said they are bullish on gold next week. At the same time, 13 professionals, or 68%, said they are bearish, and two people, or 11%, are neutral on gold."
Elsewhere, silver for September delivery declined 15 cents, or 1%, to settle at $14.83 an ounce. Silver prices dived 4.2% on the week, accounting for most of the 4.9% loss on the year.
In PGM futures on Friday and for the week:
October platinum shed $10.30, or 1%, to $1,001.30 an ounce, falling 3% from a week ago.

Palladium for September fell $12.95, or 2.1%, to $619 an ounce, dropping 4.8% on the week.
Both metals deepened their losses on the year to date. Platinum is off by 17.2% and palladium is down by 22.5%.
London Precious Metals Prices
On Friday, London precious metals prices were mixed. In comparing London bullion prices from Thursday PM to Friday PM:
Gold declined $11.60, or 1%, to $1,132.80 an ounce,
Silver rose 8 cents, or 0.5%, to $15.01 an ounce,
Platinum fell $7, or 0.7%, to $998 an ounce, and
Palladium declined $11, or 1.7%, to $621 an ounce.
For the week, prices logged declines of 2.3% for gold, 2.8% for silver, 3.3% for platinum and 5.2% for palladium.
US Mint Bullion Coin Sales in July
Demand for United States Mint gold coins remained boisterous this week with sales of 40,500 ounces after last week's 60,000 ounces. American Gold Eagle sales in July are at 101,000 ounces, already the highest total in a month than any since April 2013.
Silver sales were stunted this week without American Silver Eagles. The U.S. Mint sold out its supply of the silver coins on July 7 and their sales will not resume until July 27. The Mint did sell 38,000 ounces in Blue Ridge Parkway Five Ounce Silver Bullion Coins. These coins had also temporarily sold out but they returned to availability on Monday.
Below is a listing of U.S. Mint bullion products that shows the number of coins sold during varying periods. Products with an asterisk (*) are no longer available. Those with a double asterisk (**) are temporarily unavailable.
US Mint Bullion Sales (# of coins)
Friday Sales
Last Week
This Week
June Sales
July Sales
YTD Sales
$50 American Eagle 1 Oz Gold Coins
16,000
47,000
29,000
62,500
85,000
283,500
$25 American Eagle 1/2 Oz Gold Coins
0
1,000
2,000
4,000
4,000
40,000
$10 American Eagle 1/4 Oz Gold Coins
2,000
8,000
6,000
12,000
18,000
88,000
$5 American Eagle 1/10 Oz Gold Coins
25,000
50,000
40,000
85,000
95,000
485,000
$50 American Buffalo 1 Oz Gold Coins
1,500
5,500
5,000
21,000
13,000
109,500
$1 American Eagle 1 Oz Silver Coins**
0
1,927,000
0
4,840,000
2,709,000
24,495,000
2015 Homestead 5 Oz Silver Coins*
–
35,000
2015 Kisatchie 5 Oz Silver Coins*
–
42,000
2015 Blue Ridge Parkway 5 Oz Silver Coins
1,900
–
7,600
35,000
7,600
42,600