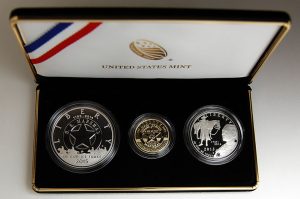 Legislation was reintroduced in the U.S. House of Representatives that calls for an end in increasing prices on commemorative coins so their sales can benefit private organizations.
H.R. 3097, the Commemorative Coins Reform Act of 2015, was introduced on July 16, 2015 by Rep. Justin Amash (R-MI) and it currently has 15 cosponsors.
Common practice in legislation seeking commemorative coins is to include surcharges for each sale in amounts of $35 for every $5 gold coin, $10 for each silver dollar and $5 for every clad half-dollar. Surcharge funds are typically earmarked for non-profit organizations to support their mission, which is also often symbolized in the commemorative coin's design. There is usually a political component here as the non-profit(s) tend to reside in the same state as the legislator who proposes the coins.
More than $506.3 million in surcharges have been raised through commemorative coin programs since 1982, according to the United States Mint. As examples of recent implementations, the two commemorative coin programs for 2015 have surcharges targeted for the March of Dimes Foundation; the U.S. Marshals Museum; the National Center for Missing and Exploited Children; the Federal Law Enforcement Officers Association Foundation; and the National Law Enforcement Officers Memorial Fund.
H.R. 3097 includes the following three major paragraphs:
(1) IN GENERAL. – Notwithstanding any other provision of law, no surcharges collected with respect to the sale of any numismatic item may be paid to any organization outside of the Federal Government, other than with respect to the costs of producing and selling such item.

(2) PAYMENT OF COSTS. – Surcharges collected in connection with the sale of any numismatic item shall be used to recover all numismatic operation and program costs allocable to the program under which such numismatic item is produced and sold.

(3) EXCESS DEPOSITED INTO TREASURY – Amounts of surcharges collected in excess of the amounts described in paragraph (2) shall be transferred by the Fund to the general fund of the Treasury for the purpose of deficit reduction.
H.R. 3097's passage and enactment would end the typical use of surcharges going forward. It would not apply to commemorative coin programs already authorized.
Past versions of the Commemorative Coins Reform Act had been introduced in 2012 in both the Senate (S. 3612) and House (H.R. 6495), and again in 2013 in the House (H.R. 1218). For H.R. 3097 to become law, it must pass in the House, the Senate and get signed by the President. The legislation now resides in House Committee on Financial Services.