United States Mint product details and images of the upcoming 2015 Dwight D. Eisenhower Coin & Chronicles Set are now available. As announced earlier, the set has a product limit of 17,000 and a price of $57.95.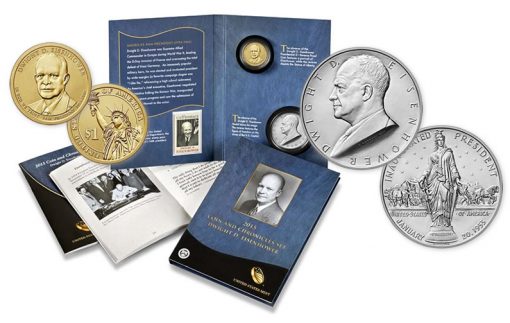 Those match this year's first set honoring Truman, which sold out in less than 15 minutes. The Ike set will also sell out, but it'll take longer with an ordering limit that is trimmed by more than half to 2 sets per household.
Instead of standard proofs, the sets have reverse proofs of the Presidential dollars — a first for the $1 series, and the sets are the only way to get them. That's why they're selling like hotcakes. (See photos of the Truman set.)
This year's Coin & Chronicles Sets commemorate Harry S. Truman, Dwight D. Eisenhower, John F. Kennedy, and Lyndon B. Johnson. They have a one-ounce, 99.9% pure silver medal and a stamp that is specific to each president. The U.S. Mint in Philadelphia makes the silver medals and the reverse proof dollars but only the dollars have the 'P' mint mark.
| | |
| --- | --- |
| Photo of the Harry S. Truman Presidential Silver Medal from the first 2015-dated Chronicles Set | Photo of the 2015-P Reverse Proof Harry S. Truman Presidential $1 Coin, also in the first Chronicles Set |
| Here are two photos of a FDR Presidential silver medal (obverse and reverse), one of the collectibles in last year's Franklin D. Roosevelt Coin & Chronicles Set | The Mint also included a reverse proof coin in the 2015 March of Dimes Special Silver Set. This photo shows a regular proof (left) and a reverse proof (right). |
Ike's Coin & Chronicles Set launches at noon EDT on August 11. On-sale dates for the last two sets are in September and October. Kennedy's set has a higher product limit of 25,000.
Here are larger U.S. Mint images of the set's 2015-P Reverse Proof Dwight D. Eisenhower Presidential $1 Coin and Dwight D. Eisenhower Presidential Silver Medal.