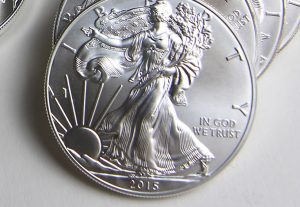 United States Mint Authorized Purchasers (APs) will have to wait another week before they can buy more 2015-dated American Eagle silver bullion coins.
The U.S. Mint's inventory of Silver Eagles was depleted on July 7 following several weeks of heightened demand triggered by falling silver prices. At the time, the agency said more coins would be available in "approximately two weeks." On Friday, the Mint told AP's that American Silver Eagle sales would resume in a limited capacity on Monday, July 27, which is about three weeks after the suspension.
American Silver Eagle sales in June hurdled 4.8 million coins, more than doubling sales from May and jumping 80% higher than sales from a year earlier. Orders for July reached 2.7 million by the 7th, already ahead of the less than 2 million moved in July 2014. For the year, the U.S. Mint has sold 24,495,000.
Demand is also sharply higher for American Eagle gold bullion coins. Their sales through the first 17 days in July are at 101,000 ounces, topping prior monthly totals going back to April 2013.
U.S. Mint bullion coins are sold in bulk to AP's who consist of major coin and precious metals dealers, brokerage companies, and other participating financial intermediaries. They buy bullion coins in bulk and then resell them for a small premium over their melt value.