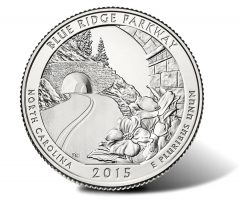 More 2015 Blue Ridge Parkway Five Ounce Silver Bullion Coins are on the way. Sales of the three-inch coin will resume next Monday, July 13, the United States Mint said today in a memo to authorized purchasers.
The U.S. Mint suspended sales of the 99.9% fine silver quarter-dollar on the day they launched, June 22, after AP's ordered the entire inventory of 35,000. The agency did not say how many more will be available come Monday. The Mint makes these bullion as well as collector five-ounce coins. Tomorrow, July 7, the agency will begin selling the collector uncirculated version to the public for $149.95. The combined mintage limit for both was originally set at 65,000.
In the same memo, the Mint told AP's that all the 2014-dated American Gold Eagle bullion coins sold out. The agency had inventory from last year remaining and was selling them at a fixed ratio to this year's 2015-dated issues. Orders as of today and going forward will be fulfilled with 2015-dated coins only, the Mint said.