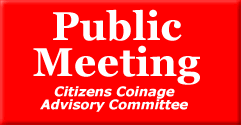 The Citizens Coinage Advisory Committee (CCAC) will conduct a two-day public meeting beginning on the morning of Tuesday, June 16, and ending before noon on Wednesday, June 17.
The CCAC is tasked with advising the Secretary of the Treasury on themes and designs pertaining to United States coins and medals.
Agenda topics up for review and comments include candidate designs for the:
2016 National Park Service 100th Anniversary Commemorative Coin Program
Foot Soldiers of the 1965 Selma to Montgomery Voting Rights March Congressional Gold Medal
65th Infantry Regiment "Borinqueneers" Congressional Gold Medal
Nancy Reagan First Spouse Gold Coin and Medal Program
CCAC meeting times are 9:30 a.m. to 4:00 p.m. (EDT) on Tuesday and 9:30 to 11:15 a.m. on Wednesday.
Anyone interested may dial in and listen to the discussion by calling (866) 564-9287 and using Access Code: 62956028. It will take place at:
United States Mint Headquarters
801 9th St. NW
Conference Rooms A, second floor
Washington, D.C. 20220