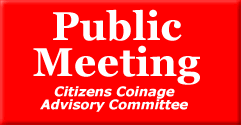 The Citizens Coinage Advisory Committee (CCAC) will hold a meeting on Tuesday, Mar. 15, to review coin designs and talk about themes for a possible series of WWI bronze medals.
The CCAC is tasked with advising the Secretary of the Treasury on themes and designs pertaining to all United States coins and medals.
Agenda topics up for review and comments include candidate designs for the:
2017 Boys Town Centennial Commemorative Coins;
2017 American Eagle Platinum Proof Coin (20th Anniversary); and
2017 American Liberty High Relief Gold Coin and Silver Medal.
In addition, the CCAC will discuss themes for a proposed series of bronze national medals to accompany the commemorative 2017 World War I Silver Dollars. Last week, the United States Mint opened its designed competition for the silver dollars.
Interested members of the public may attend the meeting at:
United States Mint Headquarters
801 9th St. NW
Conference Room A, 2nd floor
Washington, D.C. 20220
The meeting begins at 9:30 a.m. (ET) and is scheduled to last until 3:30 p.m.