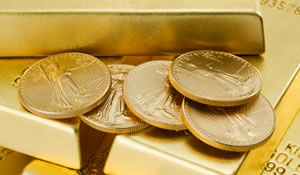 Gold prices snapped a string of two session losses on Friday, padding earlier gains on Monday and Tuesday to notch their first weekly increase in four weeks.
On Friday, gold for June delivery gained $6.70, or 0.6%, to settle at $1,188.90 an ounce on the Comex division of the New York Mercantile Exchange.
"Trading in gold has been very choppy over the past 6 weeks with futures trading in a tight range between $1,180 and $1,210 as the outlook for [Federal Reserve] policy has become even more cloudy than it already was," MarketWatch quoted Tyler Richey, an analyst for the 7:00s Report.
Gold prices advanced 1.2% on the week and they moved into the black for the year, gaining 0.4% since their final settlement in 2014 at $1,184.10 an ounce. In looking ahead, Kitco News offers the following in their Wall Street vs. Main Street survey:
"A mixed U.S. employment report for April is helping the gold market end a four-week losing streak but the Kitco News Main Street vs Wall Street gold survey shows mixed expectations in the near term as prices appear to be firmly stuck in a range.

For Kitco's online survey, 208 people voted; of those, 93 participants, or 45%, expect to see higher gold prices next week while 75 people, or 36%, see lower prices and 40, or 19%, are neutral.

This week, out of 33 market experts contacted, 21 responded; of those, four participants, or 19%, see higher prices, seven experts, or 33%, see lower prices and 10, or 48%, are neutral on the gold market."
Silver for July delivery tacked on 17 cents, or 1%, to settle at $16.47 an ounce. Silver prices are 2.1% higher than a week ago and they have rallied 5.6% this year.
In PGM futures on Friday and for the week:
July platinum rose $12.10, or 1.1%, to $1,143.50 an ounce, gaining 1.2% on the week.

Palladium for June delivery jumped $16.60, or 2.1%, to $802.35 an ounce, gaining 3.7% on the week.
For the year to date, platinum is down 5.5%. Like gold, palladium's increase this week pushed it higher on the year. Prices are up 0.5%.
London Precious Metals Prices
London precious metals prices were mixed on Friday but higher on the week. In comparing London bullion prices from Thursday PM to Friday PM:
Gold dipped $1, or less than 0.1%, to $1,186 an ounce,
Silver shed 4 cents, or 0.2%, to $16.31 an ounce,
Platinum added $10, or 0.9%, to $1,140 an ounce, and
Palladium climbed $9, or 1.1%, to $798 an ounce.
Their weekly increases totaled 0.9% for both silver and gold, 1.2% for platinum and 3.4% for palladium.
US Mint Bullion Coin Sales in May
United States Mint bullion sales were divided this week with silver coins sharply higher and gold coins markedly lower. In the latest weekly bullion sales comparisons:
Gold coins rose 7,000 ounces after gaining 14,500 ounces in the prior week. Splits were 5,500 ounces in American Gold Eagles compared to 12,500 ounces previously, and 1,500 ounces in American Gold Buffalo coins versus 2,000 ounces previously.

Silver coins added 893,500 ounces — the fourth strongest week this year, after rising 680,500 ounces in the previous week. Splits were 833,500 ounces in American Silver Eagles compared to 678,000 ounces previously, and 60,000 ounces in new Kisatchie National Forest five ounce silver coin versus 2,500 ounces previously. The Kisatchie coin sold out on Thursday so five ounce sales will be muted until June 22 when the next issue launches. It depicts Blue Ridge Parkway in North Carolina.
Below is a listing of U.S. Mint bullion products that shows the number of coins sold during varying periods. Products with an asterisk (*) are no longer available.
US Mint Bullion Sales (# of coins)
Friday Sales
Last Week
Current Week
April Sales
May Sales
YTD Sales
$50 American Eagle 1 Oz Gold Coins
0
11,500
2,500
23,500
2,500
125,000
$25 American Eagle 1/2 Oz Gold Coins
0
1,000
0
4,000
0
29,000
$10 American Eagle 1/4 Oz Gold Coins
0
0
6,000
4,000
6,000
54,000
$5 American Eagle 1/10 Oz Gold Coins
0
5,000
15,000
30,000
15,000
280,000
$50 American Buffalo 1 Oz Gold Coins
0
2,000
1,500
10,000
1,500
67,500
$1 American Eagle 1 Oz Silver Coins
0
678,000
833,500
2,851,500
833,500
15,756,000
2015 Homestead 5 Oz Silver Coins*
–
35,000
2015 Kisatchie 5 Oz Silver Coins*
0
500
12,000
30,000
12,000
42,000