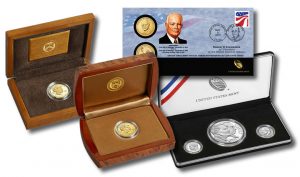 Australian coins, Canadian coins, the highly anticipated March of Dimes Silver Set, and products featuring Dwight David "Ike" Eisenhower and his wife Mamie are among new releases this week from U.S. and world mints.
On Monday, May 4, the U.S. Mint will issue the limited-edition 2015 March of Dimes Special Silver Set for $61.95. Containing a proof March of Dimes Silver Dollar and two unique Roosevelt silver dimes, many expect that the set will sell out with its 75,000 mintage and an ordering limit of 5 per household.
Dwight D. Eisenhower $1 Coin Covers launch on Tuesday, May 5. The cover includes two collectible uncirculated Ike dollars for $19.95.
Then on Thursday, May 7, the U.S. Mint will release one-half ounce, 24-karat gold coins honoring Mamie Eisenhower, the second of the four 2015-dated First Spouse Gold Coins.
Products from the United States Mint launch beginning at 12 Noon ET on their release day. As always, we'll cover their releases here on CoinNews.net, and talk about the numerous new world coins. Until then, here are last week's five most read: