United States Mint pricing has been announced for the four 2015-dated Coin & Chronicles Sets featuring Harry S. Truman, Dwight D. Eisenhower, John F. Kennedy, and Lyndon B. Johnson.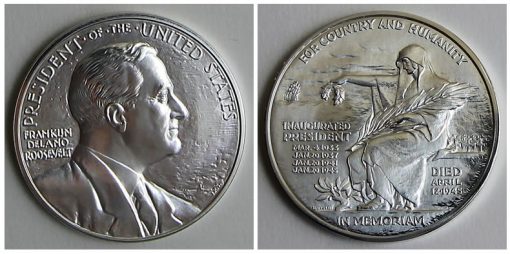 The price for each set will be $57.95, according to a U.S. Mint memo published today on the Federal Register, the official source of notices by government agencies and a daily journal of their proceedings.
That's the same price as the 2014 Franklin D. Roosevelt Coin & Chronicles Set (see photos) and the 2013 Theodore Roosevelt Coin & Chronicles Set (see photos). The former is still available from the Mint and has current sales of 12,434. The latter sold out at 15,145 and is selling in the secondary market at prices ranging from about $75 to $110. The two sets include coins of the year featuring the presidents, along with silver and bronze medals that honor them.
More information about this year's sets should become available soon. Their on-sale dates are still to be determined, and their contents have yet to be revealed.