Kisatchie National Forest will make one of its final appearances on a United States Mint collectible product with today's release of a three-inch, five ounce silver coin that depicts a reverse design emblematic of the site in Louisiana.
This new Kisatchie silver coin is the second of five 2015-dated releases and the twenty-seventh overall from the Mint's series of America the Beautiful Five Ounce Silver Uncirculated Coins.
Kisatchie National Forest Silver Coin Design
Produced at the Philadelphia Mint, in 99.9% pure silver and to an extra-large diameter of 3 inches, designs on this coin match those on the Kisatchie National Forest Quarter. It launched into circulation earlier this month with large quantities available in rolls and bags.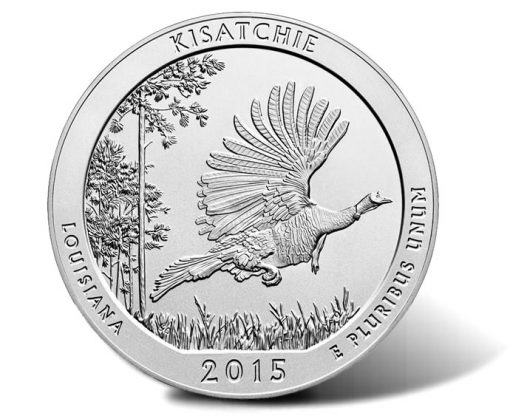 The collector coin's reverse, or tails side design, was created by Susan Gamble and sculpted by Joseph Menna. The image features a wild turkey in flight over blue stem grass. The heads side, like all of the America the Beautiful coins, share John Flanagan's effigy of George Washington.
America the Beautiful Quarters have different edges than the larger silver coins. Quarters have reeded edges while those on five ounce coins are flat and incused with ".999 FINE SILVER 5.0 OUNCE."
See how five ounce coins are made at the Philadelphia Mint.
Pricing and Premium
The price for the uncirculated coin is $149.95. With its 99.9% pure silver composition and at Tuesday's London silver price of $16.32 an ounce, each coin has an intrinsic or melt value of $81.60. That makes the U.S. Mint premium per ounce at $13.67.
This figure is low compared to other U.S. Mint collector silver products. For example, the Mint's premium for its one-ounce proof American Silver Eagle is $32.63, and the premium is $23.63 for its one-ounce uncirculated American Silver Eagle. The prior 2015 Homestead five ouncer launched with a per ounce premium of $13.80, and last year's coins came in at $15.71; $12.35; $11.60; $11.33; and $11.18.
Ordering
2015-P Kisatchie National Forest Five Ounce Silver Uncirculated Coins may be ordered from the United States Mint website by visiting this product page, or by calling 1-800-USA-MINT (872-6468).
There are no per household ordering limits. This coin has a maximum mintage of 30,000.
Bullion Version of Kisatchie 5 Oz Silver Coin
The U.S. Mint also strikes bullion five ounce silver coins that are intended for investors. Kisatchie National Forest Five Ounce Silver Bullion Coins debuted on April 21 and has sales of 29,800.
Bullion coins share the same designs and main specifications as companion uncirculated coins. In differences, they:
have a brilliant instead of matte finish like the uncirculated coins,
are also struck in Philadelphia but lack the "P" mint mark, and
do not ship in special U.S. Mint packaging.
The U.S. Mint sells bullion coins to authorized distributors who buy them in bulk and resell them in smaller quantities to dealers or straight to the public. Bullion coins are usually available from precious metals and coin dealers for a few dollars per ounce over their melt value.