The Royal Canadian Mint is accepting orders for the 2015 $20 Second Battle of Ypres Silver Coin, the second of eight issues from the First World War Battlefront series.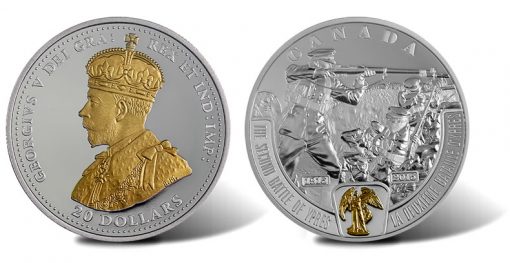 Struck in 99.99% pure silver with selective gold-plating applied to both obverse and reverse designs, the 10,000 limited-edition collectible is available for $109.95 CAD or $88.11 USD.
The Second Battle of Ypres was fought from April 22 to May 25, 1915 between German forces and those of the Allies. Despite losing over 6,000 of its initial 10,000 strong rank, the First Canadian Division persevered and earned a respected reputation for their actions.
This coin is "a touching tribute to Canada's soldiers, who stood bravely in the face of unprecedented peril at the Second Battle of Ypres in April 1915," describes the Mint. "Their brave actions contributed to a significant chapter in Canada's history."
The First World War Battlefront series debuted earlier this year and will depict scenes from eight key battles:
The Battle of Neuve-Chapelle
The Second Battle of Ypres
The Battle of the Somme
The Battle of Beaumont-Hamel
The Battle of Vimy Ridge
The Battle of Passchendaele
Canada's Hundred Days
First Armistice at Compiègne
Ypres Coin Designs and Specifications
Created by Canadian artist Silvia Pecota, the reverse of this latest coin shows Canadian forces as they would have appeared at the second battle of Ypres. Inscriptions around the design read: CANADA, 1915, 2015 and the SECOND BATTLE OF YPRES in both English and French. At the bottom, selective gold plating highlights the winged figure of "Victory."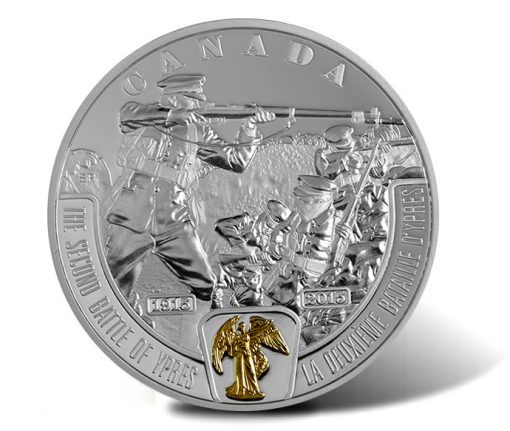 As a reminder of the centennial remembrance of World War I, the obverse offers the effigy of King George V by Sir E. B. MacKennal. The royal portrait is also enhanced with selective gold plating.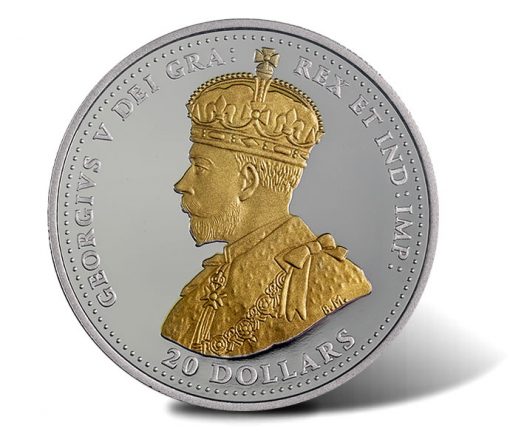 Each coin is struck to proof quality with a diameter of 38 millimeter and a gross weight of 31.39 grams.
Ordering
A Royal Canadian Mint-branded maroon clamshell display case with a graphic beauty box is included with each purchase. 2015 $20 Second Battle of Ypres Fine Silver Coins may be ordered directly from the Royal Canadian Mint at mint.ca or via this affiliate link
.
The entire eight-coin First World War Battlefront series may also be ordered through a subscription program with series coins shipped as they are released.