99.99% pure silver and the most colorful songbirds in North America are showcased in a new 5-coin subscription from the Royal Canadian Mint.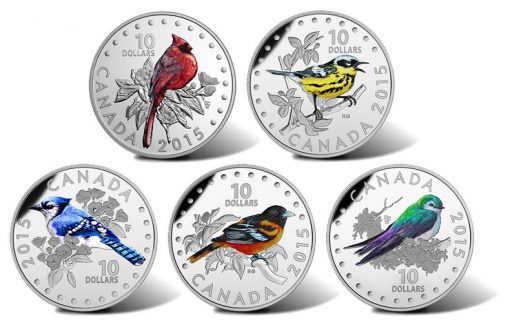 Subscription to the Mint's 2015 Colorful Songbirds of Canada series guarantees delivery of all five coins when they are released. In addition, subscribers will receive a free musical box to store them. It plays sounds of the five birds with a classical melody in the background.
"The 5-coin Colorful Songbirds of Canada subscription features five birds, each beautifully painted on fine silver," touts the Mint on its website, adding it is "a perfect gift for someone who enjoys how the Royal Canadian Mint depicts birds on silver coins."
A Northern Cardinal with its brilliant red plumage in full color appears on the first program coin. The design, by Canadian artist Derek C. Wicks, features finely detailed engraving which offers the cardinal in three-quarter profile nestled in its natural habitat of leaves and flower blossoms.
Subsequent coins will depict the Magnolia Warbler, the Blue Jay, the Baltimore Oriole and the Violet-green Swallow. These will be shipped in monthly intervals.
Coins are minted in a collector proof finish and are struck in one-half ounce of silver. All Mint-provided coin specifications include:
Mintage: 15,000
Composition: 99.99% pure silver
Finish: proof (with sheer effect)
Weight g): 15.87
Diameter (mm): 34
Edge: serrated
Certificate: serialized
Face value: 10 dollars
Reverse Artist: Various
Obverse Artist: Susanna Blunt
Ordering
The subscription may be ordered directly on the Royal Canadian Mint's website at www.mint.ca. Here is an affiliate link to the Mint's product page for the coins
.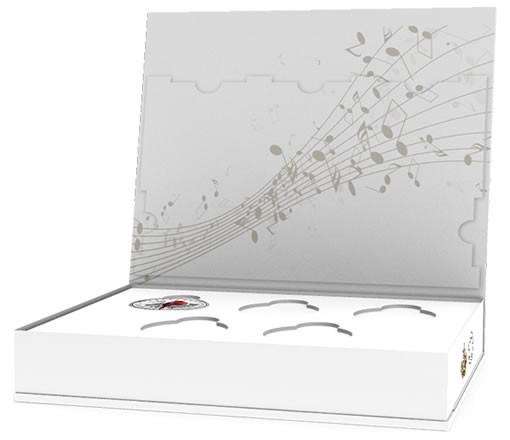 Pricing is listed as CAD $64.95 (~US $51.17) per coin. The musical display box is scheduled to ship along with the fifth coin.