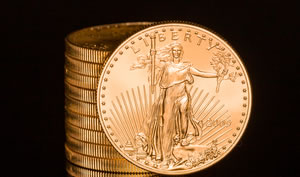 Demand soundly strengthened for American Eagle gold and silver bullion coins in March compared to February, United States Mint sales figures show, but the two bullion series logged mixed results compared to a year ago.
U.S. Mint coin sales competed against a strained bullion market for the month with gold futures off 2.5% and silver futures edging up 0.2%.
American Eagle Gold Bullion Coins
American Gold Eagles tacked on 46,500 ounces last month, soaring 151.4% from sales of 18,500 ounces in February and jumping 121.4% from the March 2014 total of 21,000 ounces.
In the January to March period, U.S. Mint distributors ordered 146,000 ounces. That tops first quarter 2014 sales of 143,500 ounces by 1.7%.
American Eagle gold coins have a 22-karat composition and come in four size options — 1 ounce, 1/2 ounce, 1/4 ounce and 1/10 ounce. These correspond to denominations inscribed on the coins of $50, $25, $10 and $5. All sizes advanced in March, with a breakout for each coin published further below.
American Eagle Silver Bullion Coins
American Silver Eagles rose 3,519,000 ounces last month, rallying 16.5% from sales of 3,022,000 ounces in February but slipping 34.3% from March of last year when sales reached 5,354,000 ounces — the sixth highest month all-time. Still, last month ranks as the second best March on the books for the 99.9% fine silver coins.
First quarter Silver Eagle sales total 12,071,000 ounces. That's down 13% from the same quarter in 2014. When American Silver Eagles ended last year at a record 44,006,000 ounces, they scored a starting three-month total of 13,879,000 ounces. That said, the over 12 million total for the year so far is higher than the annual totals from the coin's introduction in 1986 through to 2007.
U.S. Mint authorized distributors cannot order as many Silver Eagles as they want because sales are limited to keep up an inventory and to ensure even distribution. This Mint-imposed allocation system kicks in when demand exceeds supply.
American Buffalo Gold Bullion Coins
Sales of 24-karat American Buffalo gold coins rose 9,500 last month, falling by the same 20.8% from February and from March 2014 when monthly tallies ended at 12,000.
Gold Buffalo quarterly sales at 56,000 ounces are 14.5% lower than the first three months in 2014 when orders reached 65,500 ounces.
America the Beautiful Five Ounce Silver Bullion Coin Sales
Sales slowed for 2015 America the Beautiful Five Ounce Silver Bullion Coins, as expected due to lack of new issues. To date, one of this year's five designs is released. The coin honoring Homestead National Monument of America in Nebraska debuted in February with sales of 20,000. Another 15,000 sold in March. And with those claimed, the Mint announced that the Homestead bullion coin sold out.
On April 20, the United States Mint will begin selling the second five ounce silver bullion coin. It carries a design honoring Kisatchie National Forest Quarter in Louisiana.
US Mint Bullion Sales by Product
Below are U.S. Mint bullion sales by product type. For comparative purposes, included are totals from a year ago and from last month.
United States Mint Bullion Coin Sales (# of coins)
March 2014
Jan 2015
Feb 2015
March 2015
YTD Sales
$50 American Eagle 1 oz Gold Coins
16,000
51,500
12,500
35,000
99,000
$25 American Eagle 1/2 oz Gold Coins
2,000
18,000
2,000
5,000
25,000
$10 American Eagle 1/4 oz Gold Coins
4,000
36,000
0
8,000
44,000
$5 American Eagle 1/10 oz Gold Coins
30,000
115,000
50,000
70,000
235,000
$50 American Buffalo 1 oz Gold Coins
12,000
34,500
12,000
9,500
56,000
ATB 5 oz Silver Coins
12,400
600
20,000
15,000
35,600
2015 American Eagle 1 oz Silver Coins
5.354M
5.53M
3.022M
3.519M
12.071M
U.S. Mint bullion coins are sold to authorized distributors who resell them to the public and other companies like coin and bullion dealers. Bullion coins, whether gold or silver, are usually available for a few percentage points above the latest value of their precious metal content.