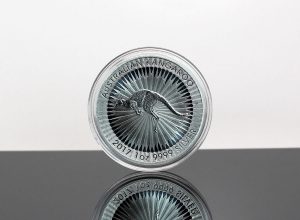 Australian bullion demand was divided in July compared to June but stronger than a year ago, according to the latest round of sales figures from The Perth Mint of Australia.
Sales of silver bullion slowed a bit — after running the fastest in five months, and gold bullion sales quickened.
Bullion Sales in July 2017
The Perth Mint sold 23,675 ounces in gold coins and gold bars last month, posting gains of 22.9% from June and 40.34% from July of last year. It was only three months earlier when gold sales at 10,490 ounces logged their weakest total since CoinNews started tracking The Perth Mint's data in February 2013.
Year to date sales at 200,337 ounces are still 19.7% lower than the 249,585 ounces sold during the first seven months of 2016.
Perth Mint sales of silver bullion reached 1,167,963 ounces in July, slipping 3.9% from the previous month but 68.4% higher than July of last year.
For the January to July period, silver sales at 6,128,170 ounces are 26.4% lower than the 8,329,603 ounces delivered through the same time in 2016.
Perth Mint Gold and Silver Sales by Month
Below is a monthly summary of Perth Mint bullion sales from July 2016 to July 2017. The figures show monthly ounces of gold and silver shipped as minted products by The Perth Mint to wholesale and retail customers worldwide. It excludes sales of cast bars and other Group activities including sales of allocated/unallocated precious metal for storage by the Depository.
Perth Mint Bullion Sales (in troy ounces)
Silver
Gold
July 2017
1,167,963
23,675
June 2017
1,215,071
19,259
May 2017
826,656
29,679
April 2017
468,977
10,490
March 2017
716,283
22,232
February 2017
502,353
25,257
January 2017
1,230,867
72,745
December 2016
430,009
63,420
November 2016
984,622
54,747
October 2016
1,084,231
79,048
September 2016
1,031,858
58,811
August 2016
376,461
14,684
July 2016
693,447
16,870