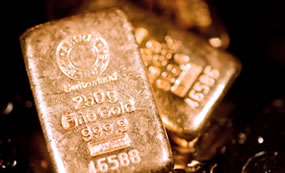 Gold and silver prices on the last trading day of March ended lower for a third session in a row. The precious metals split in their performances on the month with silver up 0.2% and gold down 2.5%.
Gold for June delivery shed $2.10, or 0.2%, to settle at $1,183.20 an ounce on the Comex division of the New York Mercantile Exchange. In the short-haul, many analysts are not forecasting bullish moves.
"We will see a short week with the Easter holiday looming and apart from some short covering ahead of the holidays, I see no real reason for a rally," MarketWatch quoted David Govett of Marex Spectron. "The dollar will continue to remain the main driver for precious for the time being, so this is the one to watch."
Gold prices ranged from a low of $1,178.20 to a high of $1,190.60. Prices edged down 90 cents, or than 0.1%, for the first quarter of the year.
"Gold's inability to hold over the psychological $1,200 level, which it recently cleared, suggests that bullion may be susceptible to a further consolidation of gains," Reuters quoted HSBC analyst James Steel. "Bullion may weaken further in the near term, we believe."
Silver for May delivery slipped 8 cents, or 0.5%, to close at $16.60 an ounce, trading between $16.44 and $16.82. Silver prices have surged 6.4% since ending last year at $15.60 an ounce.
In PGM futures on Tuesday and for March:
July platinum jumped $26, or 2.3%, to $1,143.40 an ounce but fell 3.6% on the month.

Palladium for June delivery added $6.30, or 0.9%, to $735.30 an ounce but tumbled 10.3% from a month ago.
For the first quarter or January through March period, platinum is off 5.5% and palladium is down by 7.9%.
London Precious Metals Prices
Earlier fixed London precious metals mixed it up on the day. In comparing London bullion prices from Monday PM to Tuesday PM:
Gold rose $1.50, or 0.1%, to $1,187 an ounce,
Silver eased 5 cents, or 0.3%, to $16.60 an ounce,
Platinum added $10, or 0.9%, to $1,129 an ounce, and
Palladium fell $6, or 0.8%, to $729 an ounce.
In London metal prices for March, silver edged up 0.4% while the others posted declines totaling 2.2% for gold, 4.1% for platinum and 9.8% for palladium. For the quarter, silver prices are 3.9% higher but the other precious metals are lower — 1% for gold, 6.7% for platinum and 8.7% for palladium.
US Mint Bullion Coin Sales in March
United States Mint bullion sales have logged strong gains in the last two days with gold coins rising 8,000 ounces and silver coins climbing 608,500 ounces. As for March and the quarter, CoinNews.net will publish a more detailed analysis later, but in summary:
American Eagle gold coins advanced 46,500 ounces for the month, marking a 151.4% improvement over the 18,500 ounces sold in February and more than doubling the 21,000 ounces moved during the same month last year. For the quarter, Gold Eagle sales at 146,000 ounces are a tad higher than same quarter 2014 sales of 143,500 ounces.

American Eagle silver coins surged by 3,519,000 in March, up 16.5% from February sales of 3,022,000 yet 34.3% lower than the 5,354,000 sold a year ago March. This year's 2015 Silver Eagle sales now stand at 12.071 million. In record year 2014 when Silver Eagle sales ended at 44.006 million, the coins had a higher quarterly total of 13.879 million.

American Buffalo gold coins rose 9,500 for the month compared to 12,000 in February and 12,000 in March of last year. Sales at 56,000 for the year are off 14.5% from the first three months in 2014 when the coin hit 65,500.

America the Beautiful Five Ounce Silver Bullion Coins climbed 15,000 in March. All sales came from the Homestead silver coin, with its total now at 35,000. It debuted on Feb. 17 as the first 5 ounce release of the year.
This listing of U.S. Mint bullion products show the number of coins sold during varying periods.
US Mint Bullion Sales (# of coins)
Tuesday Sales
Last Week
Current Week
February Sales
March Sales
YTD Sales
$50 American Eagle 1 Oz Gold Coins
2,000
3,500
6,000
12,500
35,000
99,000
$25 American Eagle 1/2 Oz Gold Coins
0
0
1,000
2,000
5,000
25,000
$10 American Eagle 1/4 Oz Gold Coins
0
2,000
0
0
8,000
44,000
$5 American Eagle 1/10 Oz Gold Coins
5,000
10,000
5,000
50,000
70,000
235,000
$50 American Buffalo 1 Oz Gold Coins
1,000
500
1,000
12,000
9,500
56,000
$1 American Eagle 1 Oz Silver Coins
314,000
847,500
603,500
3,022,000
3,519,000
12,071,000
2015 Homestead 5 Oz Silver Coins
400
6,000
1,000
20,000
15,000
35,000