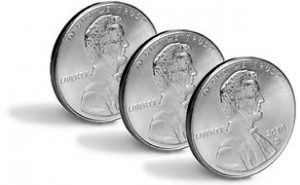 Today we bring you several newly introduced bills on coins that need little description, with previous versions talked about aplenty in having made unsuccessful rounds in prior sessions of Congress.
One of them seems poised for passage while the others have longer roads to travel and could again turn into dead ends.
H.R.516, Cents and Sensibility Act: This legislation seeks to immediately change the existing compositions of one-cent, five-cent, dime, and quarter-dollar coins to a composition of primarily U.S. steel. Similar legislation has been presented in concurrent sessions of Congress since 2011.
"This legislation is a common-sense solution to lower the cost of minting our coins," said Congressman Steve Stivers, who introduced H.R.516. "Not only will it cost less to produce, but it will also allow us to use an American resource – steel – that can be manufactured right here in our backyard."
United States Mint costs to produce coins are 1.7 cents for each penny, 8.1 cents for each nickel, 3.9 cents for each dime and 9 cents for each quarter. Read about U.S. Mint research on coin compositions in this article.
S.301: The text of this bill is yet to be published. S.301 proposes 2017 commemorative coins to celebrate the centennial founding of Boys Town, according to its summary information. Legislation with the same purpose passed in the House and Senate late last year but Congress left town before sending it up to the President's desk. It does appear that this bill has a solid chance of becoming law.
H.R.602 & S.902: Again, only summary information is available for these two pieces of legislation but they're familiar with their call for commemorative coins in celebration of the Pro Football Hall of Fame. We've seen similar attempts in 2012 and 2013. The most recent included language for 2017 gold, silver and clad coins that had surcharges to help finance the construction of a new building and renovation of existing Pro Football Hall of Fame facilities.
Previous 2015-dated coin legislation discussed in detail on CoinNews include H.R.358, the National Purple Heart Hall of Honor Commemorative Coin Act, and S.95, a bill to terminate the $1 presidential coin program.