A limited-edition set is available today featuring collectible coins, medals and stamps with portraits of Franklin D. Roosevelt and a booklet chronicling his life.
We wrote earlier about this set from the United States Mint, and it was the most read article of the week. Many thousands will sell. A smidgen over a year ago the 2013 Theodore Roosevelt Coin & Chronicles Set was introduced and it netted sales of 15,144. (See photos of the Teddy Roosevelt set.)
This latest product, which is restricted to 20,000 units, has more items and appeals to a broader audience of coin, medal and stamp collectors. Also, there are many fans of the 32nd President of the United States. FDR won four presidential elections, was a wartime president, died in office, and is one of a handful of presidents to appear annually on circulating coins. He consistently ranks as the second or third greatest president all-time. Taking it all in, there seems a good chance that these sets will eventually sell out.
Packaging and Contents of the 2014 Coin & Chronicles Set
The set's packaging and presentation appear high quality, which adds to its attraction. As described by the U.S. Mint:
"The Roosevelt coins, medals and stamps are displayed in a rich green folder covered in a soft-touch material with a handsome textured look that is very gift-worthy."
And then, of course, there are its contents:
One companion booklet including images from FDR's life and presidency.
One proof 2014 Franklin D. Roosevelt Presidential $1 Coin struck at the San Francisco Mint with the S mint mark.
One proof 2014 Franklin D. Roosevelt dime struck at the San Francisco Mint with the S mint mark.
One Roosevelt Presidential bronze medal struck at the Philadelphia Mint.
One Roosevelt Presidential silver medal struck in 1 ounce of 99.9% pure silver at the Philadelphia Mint.
One 1-cent Roosevelt stamp "Hyde Park" depicting his beloved New York home.
One 2-cent Roosevelt stamp "Little White House" paying tribute to the president's frequent and favorite retreat, located in Warm Springs, Georgia.
One 3-cent Roosevelt stamp "White House" featuring a picturesque image of the White House in the background.
One 5-cent Roosevelt stamp "Four Freedoms" showing a globe inscribed with his famous four freedoms: "Freedom of Speech and Religion, from Want and Fear."
FDR was an avid stamp collector, making stamps bearing his image more meaningful to philatelists. The coins are identical to those issued earlier this year in proof sets, so they're not altogether unique in that regard. The two medals are, sharing designs that were crafted by John R. Sinnock for the Mint's Presidential Medal of Franklin D. Roosevelt in 1945. Medal obverses bear FDR's portrait. You won't find these in any other Mint product.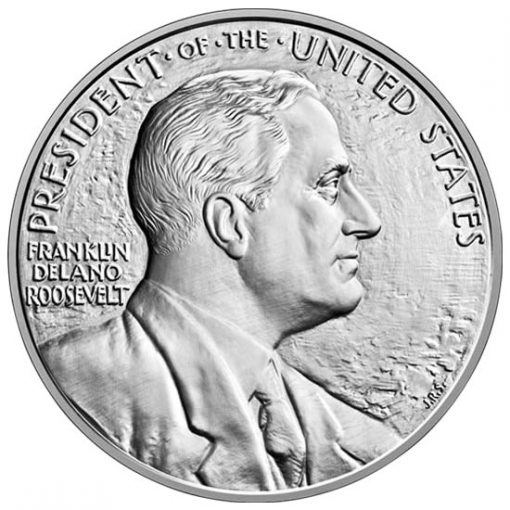 Medal reverses feature a seated figure, representing a sorrowing Nation, dropping a wreath upon the waters. To the side, a ship sails into the distant mist, symbolizing the spirit of the late President.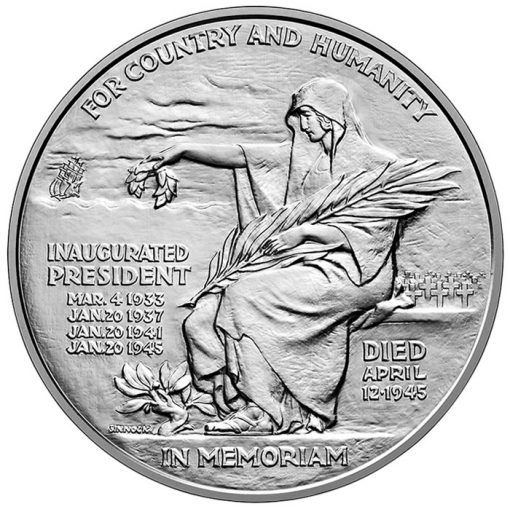 Ordering, Upcoming Sets and FDR on 2015 Commemoratives
Priced at $57.95, the 2014 Franklin D. Roosevelt Coin & Chronicles Set is available from the U.S. Mint online product page found here. It has no household ordering limits.
At least four more Coin & Chronicles Sets are in the works. Next year the United States Mint is planning to issue similar sets featuring former presidents Harry S. Truman Coin, Dwight D. Eisenhower, John F. Kennedy, and Lyndon B. Johnson.
Also upcoming, FDR will appear on commemorative 2015 March of Dimes Silver Dollars. He is remembered for his fight against polio and his help in founding the National Foundation for Infantile Paralysis, which is known today as the March of Dimes.