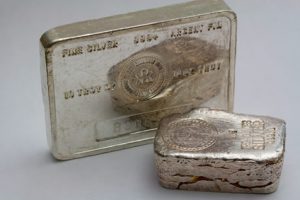 Gold closed slightly higher Friday, adding to smaller gains from the previous two sessions. As such, losses earlier in the week were barely dented and the yellow metal logged a 2.2% weekly decline, snapping a two-week winning streak and sliding back into the red for the year.
Gold for February delivery on Friday settled up $1.20, or 0.1%, to $1,196 an ounce on the Comex division of the New York Mercantile Exchange. Gold prices may be sticking near this level until 2015, some analysts opine.
"With everyone now focused on the holidays, most analysts are not expecting to see any major movement in the gold price in the next two weeks," noted Neils Christensen of Kitco News. "The trading week in North America will be disrupted as markets are closed on Dec. 25 for Christmas and January 1 for New Year's Day. Analysts said that liquidity will be extremely leaving most market participants will sitting on the sideline, waiting for activity to pick up in 2015," Christensen added.
Gold prices have slipped $6.30, or 0.5%, since ending 2013 at $1,202.30 an ounce. Though, in another comparison, gold is actually 40 cents higher than its close exactly one year ago.
Silver, Platinum and Palladium Futures
Also up for a third session, silver for March delivery tacked on dime, or 0.6%, to close at $16.03 an ounce. Silver prices still plunged 6% on the week, and they are off 17.2% on the year.
In rounding out the precious metals complex on Friday and for the week:
January platinum was about flat, slipping a dime to $1,197.00 an ounce. Prices declined 2.8% from a week ago.

Palladium for March delivery rallied $12.95, or 1.6%, to $805.10 an ounce, yet fell 1.4% on the week.
On the year to date, platinum has declined 12.9% and palladium has surged 12.1%.
London Fix Precious Metals
London precious metals were mixed on Friday and down for the week. When comparing London bullion Fix prices from Thursday PM to Friday PM:
Gold shed $3.50, or 0.3%, to $1,195.50 an ounce,
Silver tumbled 22 cents, or 1.4%, to $15.86 an ounce,
Platinum lost $8, or 0.7%, to $1,197 an ounce, and
Palladium added $4, or 0.5%, to $795 an ounce.
Weekly losses among London metals stacked to 1.8% for gold, 7.1% for silver and 2.8% for platinum and palladium.
US Mint Bullion Coin Sales in December
United States Mint bullion sales have tended to crawl during the last few weeks in December, and this year is no different.
Silver coins rose 245,000 ounces after gaining 906,500 ounces in the previous week. Splits this week were 235,500 ounces in American Silver Eagles compared to 901,000 ounces previously, and 9,500 ounces in America the Beautiful Five Ounce Silver Bullion Coins compared to 5,500 ounces previously.
American Silver Eagles added to their sales record at 43,505,000 coins for the year so far. Almost two weeks ago, 2014 sales scored a new record by topping the old annual sales record set in 2013 at 42,675,000 coins. 2015-dated Silver Eagles will be available beginning on Jan. 12.
Gold coin sales have been frozen for two weeks, stuck since the U.S. Mint announced that it had completed production of the 2014-dated versions and that it would begin selling 2015-dated coins on Jan. 5. Eventually, Mint distributors will have to order the remaining supply from this year as they will be sold, on a fixed ratio basis, alongside the 2015-dated coins beginning with orders placed on Jan. 20.
Below is a sales breakdown of U.S. Mint bullion products with columns listing the number of bullion coins sold last week, this week, last month, in December, and the year to date. Coins with an asterisk (*) have sold out.
American Eagle and Buffalo Bullion Sales (# of coins)
Friday Sales
Last Week
Current Week
November Sales
December Sales
YTD Sales
$100 American Platinum Eagle Bullion Coins*
0
0
0
0
0
16,900
$50 American Eagle Bullion Gold Coins
0
0
0
49,000
12,000
414,500
$25 American Eagle Bullion Gold Coins
0
0
0
8,000
0
46,000
$10 American Eagle Bullion Gold Coins
0
0
0
12,000
6,000
118,000
$5 American Eagle Bullion Gold Coins
0
0
0
40,000
30,000
560,000
$50 American Buffalo Bullion Gold Coins
0
0
0
12,500
2,500
175,500
$1 American Eagle Silver Bullion Coins
0
901,000
235,500
3,426,000
1,958,000
43,505,000
Great Smoky Mountains National Park 5 Oz Silver Bullion Coins*
0
0
0
0
0
33,000
Shenandoah National Park 5 Oz Silver Bullion Coins
0
300
500
900
1,100
24,400
Arches National Park 5 Oz Silver Bullion Coins*
0
0
0
0
0
22,000
Great Sand Dunes 5 Oz Silver Bullion Coins
0
800
1,400
1,700
4,000
21,900
Everglades 5 Oz Silver Bullion Coins
0
0
0
27,000
7,000
34,000