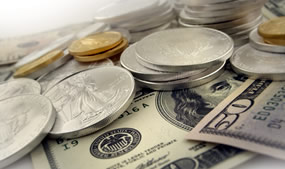 Precious metals bobbed back and forth for most of the week, but their losses weighed heavier than their gains. Gold not only slid 2.3% on the week, it closed on Friday at a five-week low.
Gold for June delivery declined $19.30, or 1.6%, to end at $1,175 an ounce on the Comex division of the New York Mercantile Exchange. The drop was the furthest since March 6 and the settlement the lowest since March 19.
"This week's action in gold reflects indecision more than anything else," MarketWatch quoted Katrina Lamb, head of investment strategy and research at MV Financial. "The pattern for the week as a whole was up one day, down the next."

"Barring any X-factor that sends investors fleeing into safe havens, we expect indecision will continue to be the watchword until we have more clarity" on interest rates from the Federal Reserve, she said.
With its weekly loss, gold turned into the red for the year-to-date. Gold prices are off 0.8% since their final settlement in 2014 at $1,184.10 an ounce. In looking ahead, Kitco News offers the following in their weekly Wall Street vs. Main Street survey:
"This week in Wall Street vs. Main Street, 514 people participated in the online Kitco gold survey. Of those, 263, or 51%, are bearish on the gold market next week; 153 readers, 30%, are bullish on gold prices and 98 people, or 19% are neutral.

It was a considerably closer race among Kitco's market professionals; out of 32 market professionals surveyed, 20 responded this week. According to the results, 8 analysts, or 40%, are neutral on prices next week; 6 participants, or 30%, see prices moving higher and 30% see prices moving lower."
Silver for May delivery moved down 19 cents, or 1.2%, to settle at $15.64 an ounce. The precious metal was pounded on the week, plunging 3.7%. Silver prices still remain higher on the year, but barely, with their pick-up of 0.2%.
In PGM futures on Friday and for the week:
July platinum fell $15.30, or 1.4%, to $1,121.40 an ounce, falling 4% from a week ago.

Palladium for June delivery edged up 35 cents to $770.25 an ounce, sliding 1.6% on the week.
For the year to date, platinum is down 7.3% and palladium is off 3.5%.
London Precious Metals Prices
Like futures in New York, London precious metals prices were mixed on Friday and lower on the week. In comparing London bullion prices from Thursday PM to Friday PM:
Gold shed $2.75, or 0.2%, to $1,183 an ounce,
Silver lost 3 cents, or 0.2%, to $15.83 an ounce,
Platinum dipped $1, or 0.1%, to $1,128 an ounce, and
Palladium tacked on $13, or 1.7%, to $774 an ounce.
Their weekly losses stacked to 1.7% for gold, 3.2% for silver, 2.8% for platinum and 0.4% for palladium.
US Mint Bullion Coin Sales in April
United States Mint bullions coins rallied this week with silver sales the strongest since the week after the first 2015-dated Silver Eagles launched in January and gold sales the highest in three weeks. In the latest weekly bullion sales comparisons:
Gold coins advanced 9,500 ounces after rising 7,500 ounces in the prior week. Splits were 7,000 ounces in American Gold Eagles compared to 6,000 ounces previously, and 2,500 ounces in American Gold Buffalo coins versus 1,500 ounces previously.

Silver coins jumped 902,500 ounces after increasing by 575,500 ounces in the previous week. Splits were 755,000 ounces in American Silver Eagles and 147,500 ounces in new Kisatchie National Forest five ounce silver coins. This second of the 2015-dated five ounce coins went on sale Monday. The first issue of the year, depicting Homestead National Monument, sold out weeks ago.
The table below offers a listing of U.S. Mint bullion products shows the number of coins sold during varying periods. Products with an asterisk (*) are no longer available.
US Mint Bullion Sales (# of coins)
Friday Sales
Last Week
Current Week
March Sales
April Sales
YTD Sales
$50 American Eagle 1 Oz Gold Coins
0
5,000
5,500
35,000
12,000
111,000
$25 American Eagle 1/2 Oz Gold Coins
0
0
1,000
5,000
3,000
28,000
$10 American Eagle 1/4 Oz Gold Coins
0
0
2,000
8,000
4,000
48,000
$5 American Eagle 1/10 Oz Gold Coins
0
10,000
5,000
70,000
25,000
260,000
$50 American Buffalo 1 Oz Gold Coins
0
1,500
2,500
9,500
8,000
64,000
$1 American Eagle 1 Oz Silver Coins
243,000
575,500
755,000
3,519,000
2,173,500
14,244,500
2015 Homestead 5 Oz Silver Coins*
–
15,000
–
35,000
2015 Kisatchie 5 Oz Silver Coins
0
N/A
29,500
N/A
29,500
29,500