New Royal Canadian Mint coins showcase one of world's most captivating creatures, the polar bear.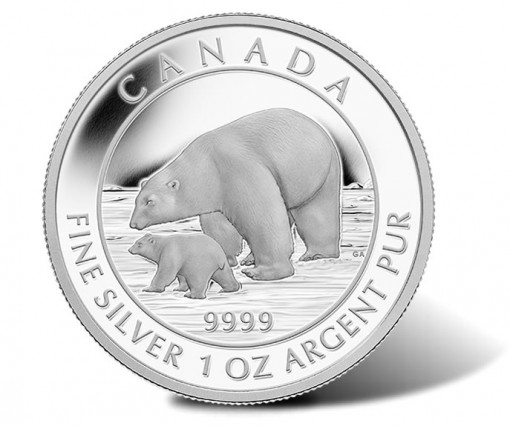 The 2015 $10 Polar Bear and Cub 1/4 oz Gold Coin and the 2015 $5 Polar Bear and Cub 1 oz Silver Coin share a design of a bear and its cub set against their natural habitat.
"A symbol of the power and vastness of Canada's northern landscape, the Polar Bear is an iconic animal for Canadians," describes the Royal Canadian Mint's website. "In a nation dominated by weather extremes, the Polar Bear's ability to survive and thrive in the harshest climate reflects Canadians' stalwart pragmatism and spirit of adventure."
Canadian artist Germaine Arnaktauyok crafted the image of the two animals.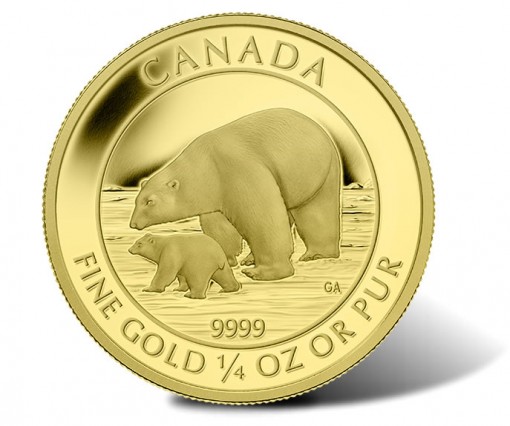 Other details of the coins include:
Polar Bear and Cub Gold and Silver Coin Specifications
1/4 oz Gold Coin
1 oz Silver Coin
Mintage
2,000
7,500
Composition
99.99% pure gold
99.99% pure silver
Finish
proof
proof
Weight (g)
7.8
31.39
Diameter (mm)
20
38
Edge
serrated
Certificate
serialized
Face Value (CAD)
$10
$5
Obverse Artist
Susanna Blunt
Reverse Artist
Germaine Arnaktauyok
Ordering
2015 Polar Bear and Cub coins may be ordered from the Mint's website at mint.ca, or by using this affiliate link to the Mint's New Releases.
Pricing for the gold coin is CAD $649.95, or about US $569.90. The silver coin is CAD $89.95, or about US $78.90. Each ships in a Royal Canadian Mint-branded maroon clamshell with black beauty box.