New from the Royal Canadian Mint is the 2014 $50 Polar Bear Silver Coin, the first release in a new series of 99.99% pure silver coins that sell at their legal tender face value of $50.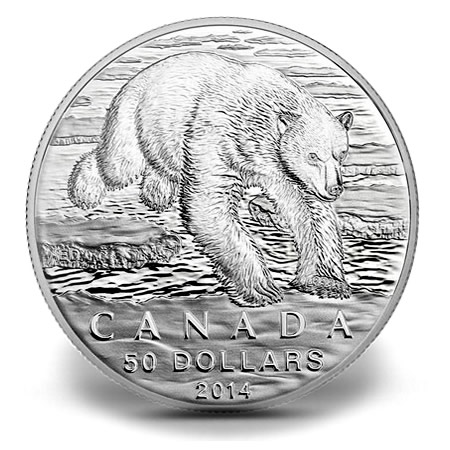 This new $50 for $50 series compliments the Mint's Exchange $20 for $20 coin program that launched in 2012 and its Exchange $100 for $100 coin program that debuted in 2013. Both series of coins have proven exceptionally popular with their prices, precious metal content and bold designs credited for a swell of new Royal Canadian Mint customers.
Speaking to their popularity, three of the "$100 for $100" coins have launched with each having mintages of 50,000 and each selling out. Twelve of the "$20 for $20" coins have been issued so far with mintages ranging from the 200,000 to 250,000. Only two remain through the Royal Canadian Mint. These two are the most recent 2014 issues with the coin featuring the Canadian goose at 89% of sales and the coin depicting a bobcat having launched in late February.
Designs, Specifications and Mintages
2014 $50 Polar Bear Silver Coins feature Emily Damstra's design depicting the polar bear within an Arctic landscape of ice and water. Below the scene are inscriptions of CANADA, 50 DOLLARS and the year 2014. Obverses show Susanna Blunt's effigy of Queen Elizabeth II with inscriptions of ELIZABETH II and D.G. REGINA.
Specifications include a weight of 15.87 grams, a diameter of 34 mm, a matte proof finish and a serrated edge. With its 99.99% purity, the Polar Bear coin has a silver weight of just over one-half troy ounces (0.51023 oz).
Mintages will start at 100,000 for this first of the $50 for $50 coins.
Ordering
Ordering and additional details for the 2014 $50 Polar Bear Silver Coin can be found on the Royal Canadian Mint website at mint.ca. An affiliate link to the Mint's product page for the coin is right here
.
Orders are limited to 3 coins per household.