2012 Canadian $20 Polar Bear Silver Coins are no longer available from the Royal Canadian Mint, having sold out just like the previous two issues in the "$20 for $20" commemorative series.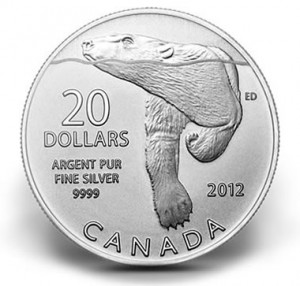 Each coin was sold to the public for $20, enabling buyers to get a $20 legal tender coin that is struck from 99.99 percent silver at face value. Making it more attractive, the Royal Canadian Mint sold the coins HST/GST/PST tax exempt.
This series has proven extremely popular with coin collectors and others attracted to the coin designs and pricing. It debuted with a $20 Maple Leaf Silver Coin in February 2011. Despite a mintage of 200,000 and a household order limit of three, the Maple Leaf commemorative sold out in less than one month.
That impressive feat was matched by the second strike of the series, the $20 Canoe Silver Coin which first appeared in October 2011. This release had its mintage increased to 250,000 and still sold out in thirty-four days, once again with a household order limit of three.
Shown on the reverse of the 2012 Polar Bear Silver Coin is a design by Emily S. Damstra. It depicts a swimming polar bear with its head just above the water. Reverse inscriptions include "20 DOLLARS", "ARGENT PUR FINE SILVER 9999", "CANADA" and "2012."
The obverse of the commemorative contains a portrait of Queen Elizabeth II of England. The portrait is surrounded by the inscriptions of "ELIZABETH II" and "DG REGINA".
$20 Polar Bear Silver Coins feature a diameter of 27 mm with a total weight of 7.96 grams. As each is struck from .9999 fine silver, one coin has an approximate silver content of a quarter ounce of pure silver. Given a silver spot of $35 an ounce, that would equate to a melt value of about $8.75 per coin.
A mintage of 250,000 was in place for this release. Also, the Mint had kept a strict three per household order limit like the previous issues.
Collectors interested in making a purchase for future releases are asked to sign up for email updates. Visit the Royal Canadian Mint's website, www.mint.ca, for more information.