The Royal Canadian Mint continues a popular series with its newly released 2014 $20 Snowman Silver Coin. Struck from 99.99% pure silver and like other coins from the Mint's Exchange $20 for $20 program, each is sold at its legal tender face value of $20.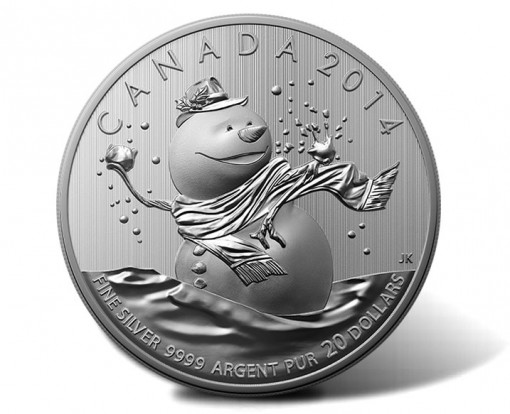 The Royal Canadian Mint introduced its $20 for $20 silver coins in 2011. Including this newest piece, the series has seen a total of fourteen different releases with all but the most recent issues selling out. A list of the Exchange $20 for $20 coins and their reverse themes include:
2011 $20 Maple Leaf
2011 $20 Canoe
2012 $20 Polar Bear
2012 $20 Queen's Diamond Jubilee
2012 $20 Farewell to the Penny
2012 $20 Magical Reindeer
2013 $20 Hockey
2013 $20 Wolf
2013 $20 Iceberg
2013 $20 Santa
2014 $20 Canada Goose
2014 $20 Bobcat
2014 $20 Summertime
Mintages of these silver coins have varied from 200,000 to 250,000. This latest issue is limited to 200,000. The most recent Summertime coin, also with a 200,000 mintage, is at 94% of sales.
$20 for $20 Silver Coin Melt Values, Specifications and Latest Design
$20 for $20 silver coins weigh 7.96 grams, have a diameter of 27 mm, and a serrated edge. For reference, the weight equates to just over one-quarter troy ounce of silver (0.25592 troy oz.). Based on today's LBMA Silver Price of $17.26 an ounce, each coin has an approximate melt value of $4.42.
Shown on the reverse of the 2014 $20 Snowman Silver Coin is a playful snowman. As designed by Jesse Koreck, the snowman is in the midst of a snowball fight. A hat and scarf complete the characters ensemble. Inscribed around the snowy scene are CANADA, 2014, FINE SILVER 9999 ARGENT PUR 20 DOLLARS, and the artist's initials of JK.
Each is struck as legal tender and features Susanna Blunt's effigy of Queen Elizabeth II on the obverse. Inscriptions include D G REGINA and ELIZABETH II.
Ordering
Ordering information and additional details are available on the Royal Canadian Mint website. An affiliate link to the Mint's page of $20 for $20 silver coins is found here
. A household order limit of three is in place. The Mint promotes that the coin has no tax and it ground ships for free.