Another new and very original collector piece from the Royal Canadian Mint is its proof 2014 $20 Venetian Glass Snowman Silver Coin.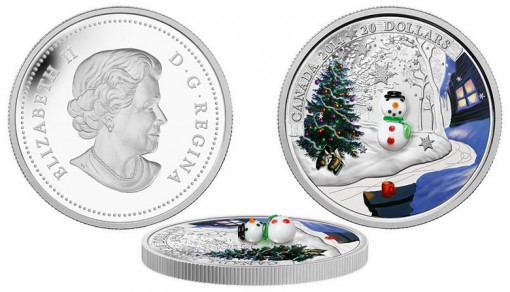 Struck in one-ounce of 99.99% pure silver and limited to 10,000 with 89% already sold, the $20 silver coin features a three-dimensional Venetian glass snowman created by master glass makers in Murano, Italy, Vio col vetro.
"Venetian glass is prized around the world for its clear, vibrant colors. Because it is handcrafted by skilled artisans, each glass snowman on your coin is unique," describes the Mint.
Reverses, designed by Canadian artist Julius T. Csotonyi, present a colorful outdoor Christmas scene with the 3D Venetian glass snowman taking center stage.
In addition to the snowman with its black top hat, orange carrot nose, green scarf and red buttons, prominent design elements include:
an evergreen tree decked out with colorful Christmas ornaments, white garland, and bright lights;
a pair of old-fashioned skates;
a curving ice path,
a red mug of cocoa sitting exposed on the end of a bench;
a snow-covered cabin; and
a background of snowflakes and trees.
Surrounding the holiday scene are inscriptions of CANADA, 2014 and 20 DOLLARS.
Obverses bear the portrait of Queen Elizabeth II, by Susanna Blunt, with surrounding inscriptions of ELIZABETH II and DG REGINA.
Ordering
2014 $20 Venetian Glass Snowman Silver Coins are available from the Royal Canadian Mint by visiting www.mint.ca or by calling 1-800-267-1871 in Canada or 1-800-268-6468 in the United States. An affiliate link to Mint's product page for the coin is found here
.
Priced at CAD $149.95, or about US $133.50, coins arrive encapsulated and held within a Royal Canadian Mint-branded maroon clamshell with black beauty box.