The Royal Canadian Mint introduces its newest release in an extremely popular program with the 2014 $20 Bobcat Silver Coin.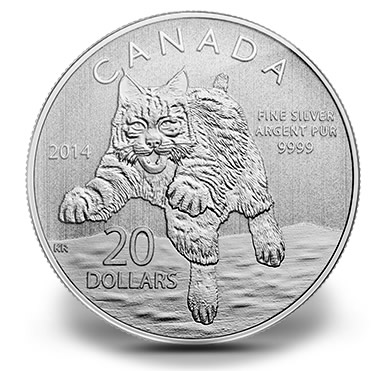 This coin appears as the twelfth issue from the Mint's Exchange $20 for $20 series which features 99.99% pure silver coins sold at their legal tender face values of $20.
Designs of 2014 $20 Bobcat Silver Coin
By Canadian artist Ken Ryan, the $20 for $20 Bobcat Silver Coin showcases a reverse design of a bobcat pouncing in the air. Behind it is a traditional Canadian scene. Inscriptions around the image read: 20 DOLLARS, ARGENT PUR FINE SILVER 9999, CANADA and 2014. Ryan's initials of KR can also be seen.
Obverses feature the Susanna Blunt effigy of Queen Elizabeth II with inscriptions of ELIZABETH II and D.G. REGINA.
Mintages of 2014 $20 Bobcat Silver Coin
This coin features a mintage of 225,000. The first coin of the series had a lower mintage of 200,000, but it sold out quickly. Subsequent issues saw a higher mintage of 250,000 which helped in extending sellout times.
Production was lowered to 225,000 for the last three program coins with sell outs for all but the most recent. That strike, released in January, showcases a Canada Goose. It is listed as 81% sold as of this writing.
$20 for $20 Silver Coin Specifications and Silver Melt Values
Each coin from the Exchange $20 for $20 program is struck to a weight of 7.96 grams and a diameter of 27 mm. The weight equates to just over one-quarter ounce of silver.
This gives every coin in the program an approximate melt value of $5.44 based on the recent spot price of $21.25 an ounce.
Past and Upcoming $20 for $20 Silver Coins
The Royal Canadian Mint's $20 for $20 program has previously featured a total of eleven coins, as listed below in order of their release:
2011 $20 Maple Leaf
2011 $20 Canoe
2012 $20 Polar Bear
2012 $20 Queen's Diamond Jubilee
2012 $20 Farewell to the Penny
2012 $20 Magical Reindeer
2013 $20 Hockey
2013 $20 Wolf
2013 $20 Iceberg
2013 $20 Santa
2014 $20 Canada Goose
Two more coins in the program are scheduled yet this year. Subsequent designs and release months are:
Summertime – May 2014
Holiday Candles – October 2014
Ordering Information
Ordering details and additional information about the 2014 $20 Bobcat Silver Coin is available on the Royal Canadian Mint website. An affiliate link to the Mint's page of $20 for $20 silver coins is right here
. A household order limit of three is in place.
$20 for $20 Coin Subscription
Upcoming 2014 $20 for $20 Silver Coins are also available via subscription. Enrollees of the subscription program will receive the new coins as they are issued.