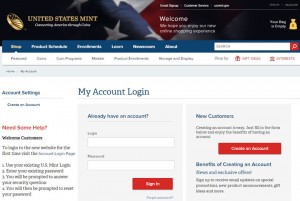 The United States Mint sent out a memo today, Oct. 3, with information about its new shopping site, saying they wanted to aid customers in updating their account information and to also address possible concerns about what information was transferred from the old ordering system to the new one.
First Time Logins Require Password Reset
It's clear that some collectors with existing accounts are getting confused about the requirement to reset their password to login for the first time. The U.S. Mint's "Account Login" page, as shown in screenshot above, lists the following four steps to follow:
Use your existing U.S. Mint Login
Enter your existing password
You will be prompted to answer your security question
You will then be prompted to reset your password
Existing customers are encouraged to access their account, reset their password and verify that their information is up to date. It's a particularly good idea to do so before the next product release, and especially before the big launch on the 28th when the Mint releases the 50th Anniversary Kennedy 2014 Half-Dollar Silver Coin Collection.
Anyone experiencing problems should call 1-800-USA-MINT (872-6468) or email the Mint's customer support center at usmint-support@catalog.usmint.gov. For now, the Mint has disabled its online "Live Chat" feature so its staff can take more calls, noting that its Call Center is:
"Experiencing high volume as customers place orders, request help with password resets or check order status. To alleviate wait times, we are routing calls based on specific concerns, and adding staff to take calls."
Credit Card Information Not Necessarily Migrated to New System
If you had an account in the old system, you may need to re-enter your credit card information. The Mint said it "took extra precautions to make sure customer information was safe and secure" during the migration to the new system. As one of the precautionary measures, it did not transfer credit card information unless you had an open subscription order.
Finally, the U.S. Mint stated that orders made online will always require the credit card's three- or four-digit Card Verification Value (CVV) code. This has become a common requirement across many online ordering sites to help reduce fraudulent transactions.