Around the corner are U.S. Mint website improvements to enhance users experience while shopping via the online store, the bureau revealed this week and hinted at last month when it announced its free shipping promotion.

Included in these tweaks are a new shopping cart and an online waiting room that can be used during peak periods to ease web system slowdowns and crashes that can occur when a high-demand product is released.
These latest enhancements will roll out to www.usmint.gov/catalog on Friday, August 30, 2013. They mark a continued effort on the part of Mint to address website shortcomings identified through customer surveys and changing technologies.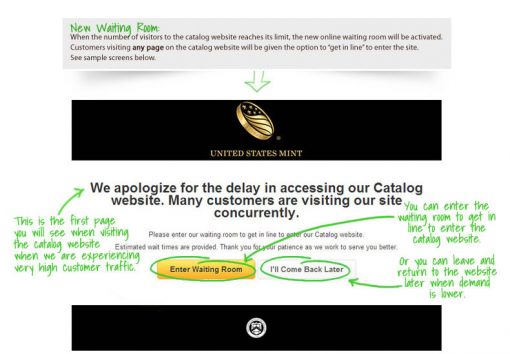 Perhaps the most welcomed change will be the addition of an online waiting room.
"The new online waiting room will be used to assist customers who want to purchase high-demand products from the online catalog on the first day the product becomes available," describes a U.S. Mint note sent to news editors on Tuesday, August 20. "As you know, the catalog website has often been overwhelmed by customers seeking to order high demand products on the first day of sales."
Anyone trying to visit the U.S. Mint's online store during a peak period will have the option to return later or enter an online waiting room to "get in line." Once in the waiting room, a time is displayed that tells customers how long they have to wait before entering the online store.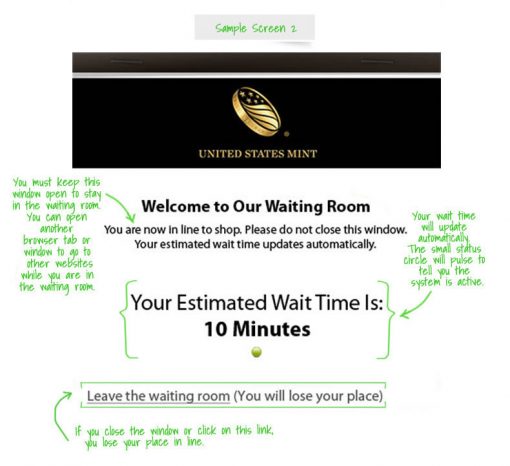 To keep that place in line, the browser window for the waiting room must be kept open. Additional browser windows or tabs may be opened, but if the waiting room window is closed or navigated away from, the customer will lose their "spot" in line. According to the Mint, the concept has been tested by customers with positive results. The waiting room option is expected to be deployed on an as-needed basis.
Additional tweaks to the website include a new shopping cart. The updated interface is designed to be easier to read and will utilize additional industry standard features, the Mint states.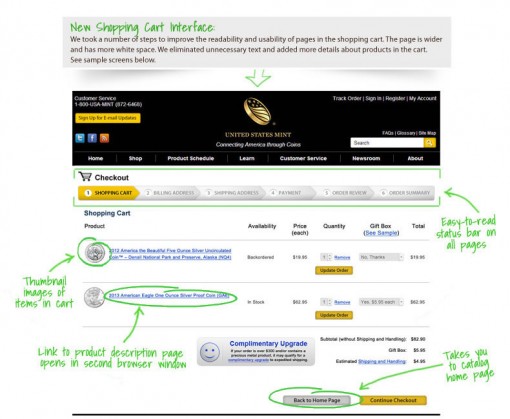 Specifically, shopping cart web pages will be wider with more white space and less text. The online cart will also feature additional information on items in the order, including a product image, a link to the product description, price and quantity.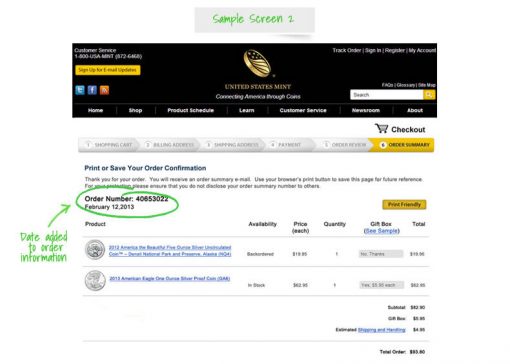 Finally, an order date has been added to the order confirmation screen to make it easier to sort through multiple confirmations.