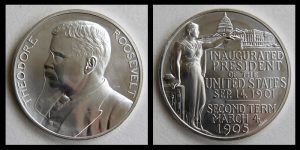 News about 50th anniversary Kennedy coins continued to capture collectors' attention but other stories vied for the weekly Most Read.
CoinNews' readership almost normalized without headlines of new Kennedy coins to compete against summer and back-to-school activities.
Most of our own staff was away for the week, taking some time off following a very busy schedule. We come back refreshed, looking to finish more stories about our recent trip to the West Point Mint before we head back on the road again.
Of the 17 published articles last week, two about Kennedy coins were among the most read. News about new Canadian coins were popular as well. Here are last week's most read:
2014 Kennedy Gold Coin Sales at 62,341; Price Increase Likely – New U.S. Mint figures show how many dual-dated 1964-2014 Proof 50th Anniversary Kennedy Half-Dollar Gold Coins have sold. And on a related note, its price and that of other U.S. Mint gold coins are poised to rise on Wednesday…
Theodore Roosevelt Coin and Chronicles Set Sells Out (Photos) – I like this set. It's unique with two medals, a coin and complimenting packaging. Most importantly, it includes the first ever 99.9% silver Roosevelt medal struck by the U.S. Mint. For that reason alone I was a tad surprised that sales didn't reach higher — but then it's not a coin either…
2014 Majestic Maple Leaves Coins – Royal Canadian Mint 2014 Majestic Maple Leaves Coins highlight Canada's iconic maple leaf symbol in unique examples of silver, gold and platinum. The platinum and gold coins share designs, showcasing an image of two maples leaves, one smaller on top a larger one. All three silver maple leaves coins offer the same basic specifications and design but with different enhancements for added detail…
2014 Autumn Allure Coin Ends Canadian Maple Canopy Series – Crafted by Emily Damstra, the reverse features an upward view of the autumn canopy of three maple leaf trees colored with hues of orange, yellow and gold. The bark of the trees offer enhanced detail and a lower branch shows glimpses of familiar maple leaves…
Mad Dash for 1964-2014 Kennedy Gold Coins Captured on TV – Seeing is believing. There was crazy-like gold fever in the air last week. The U.S. Mint's suspension of in-person purchases of 1964-2014 50c Kennedy gold coins became clearer after watching raw footage of people running toward the retail shop at the U.S. Mint in Denver…