The Perth Mint earlier this month started selling its latest annually issued 2014 Proof Australian Kangaroo High Relief Silver Coin.
We've covered new releases for a few years since the Perth started striking them in 2010. They've always caught my attention so this year I picked one up to see what I was missing. I'm glad I did, especially with the Citizens Coinage Advisory Committee soon discussing a potential 2015 US 24K Gold Ultra-High Relief Coin and an accompanying silver medal.
There are extra challenges with high relief designs on coins and medals, especially in silver as lighting reflects from the deeper elements in so many ways. They have to be "right" since they're usually found on smaller diameter coins and can get lost as a result.
I snapped a few photos of the 2014 Australian Kangaroo High Relief Silver Coin and it was difficult to get decent shots that portray the coin as it appears in person. The lighting bounces around the designs and proof finish. In the end, I had to compromise. While the photos below do capture the designs, they fail to show the mirror-like surfaces and the effects they have in making the coins pop.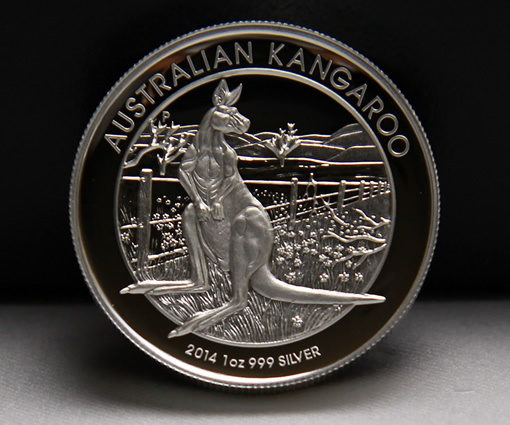 Each year the Perth Mint introduces a difference kangaroo design for its 99.9% fine, one-ounce Australian Kangaroo High Relief Silver Coin. Like last year, this year's design was created by Perth Mint artist Tom Vaughan. It depicts an adult kangaroo standing on its haunches, next to a fence on a property in rural Australia. This design, with surrounding inscriptions of AUSTRALIAN KANGAROO, 2014, and 1 oz 999 SILVER, sits on a coin diameter of 32.60 mm. For American readers, that's about 80% of the diameter used for Silver Eagles.
I've found that I don't pay much attention to obverses of modern Australian coinage because they always feature the Ian Rank-Broadley effigy of Her Majesty Queen Elizabeth II. As the saying goes, when you've seen one, you've seen them all. Not so with her portrait in high relief. It stands out on this piece.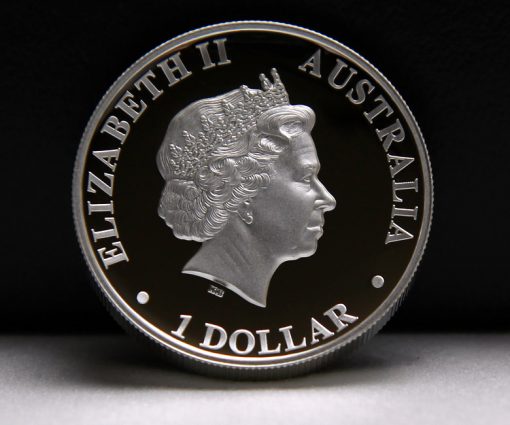 To support the depth in detail on obverse and reverse designs, high relief coins are thicker. At 6.00 mm, Australian Kangaroo High Relief Silver Coins are twice as thick as American Silver Eagles.

2014 Australian Kangaroo High Relief Silver Coins are priced at AUS $94.55, or about US $88.68. Orders may be placed directly at the Perth Mint website of www.perthmint.com.au. Coins arrive quickly. My order was placed on July 5, it shipped from Australia on the 8th and it was delivered on the 11th.
This coin has a mintage limit of 20,000. Each is held in a grey display case that ships inside an illustrated shipper along with a numbered Certificate of Authenticity.