The Perth Mint of Australia this week introduced a 2012 Australian Kangaroo High Relief Silver Proof Coin, the third annual issue in the series. It was released on July 3, 2012 at a debut price of $100.00.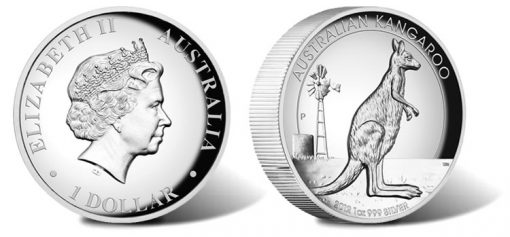 Composed from one ounce of 99.9% fine silver, the Perth Mint has limited the coin's maximum production total to 20,000. This is the same mintage that was authorized in previous issues, with the first one selling out.
Current and past High Relief Kangaroo Silver Proof Coins depict the same reverse design as presented on associated Kangaroo Gold Bullion Coins from that year, which has been shared with other coins as well. As an example, the reverse design of the newest coin also appears on the  2012 Australian Mini Roo Gold Coin that launched in April.
Specifically, this year's design features a standing kangaroo with a windmill and a water tank in the background, a scene commonly found in the Australian bush area. The reverse is the work of Perth Mint artist Wade Robinson. Surrounding the image are the inscriptions "AUSTRALIAN KANGAROO," "2012" and "1 OZ 999 SILVER." In addition, the Perth Mint's 'P' mintmark appears to the left of the windmill.
The obverse design bears the traditional portrait of Queen Elizabeth II by Ian Rank-Broadley. Her image is surrounded by the inscriptions of "ELIZABETH II," "AUSTRALIA" and "1 DOLLAR."
"The coin's high relief reverse and obverse are minted on concave surfaces to ensure the optimum flow of metal is achieved by the strike of the die," explains the Perth Mint.
By using a high relief, the coin offers an increased level of detail not typically seen in standard coins.
Australian Kangaroo Silver Proof Coin Specifications
| | |
| --- | --- |
| Silver Content (Troy oz) | 1 |
| Face Value (AUD) | 1 |
| Fineness (% purity) | 99.9 |
| Minimum Gross Weight (g) | 31.135 |
| Maximum Diameter (mm) | 32.60 |
| Maximum Thickness (mm) | 6.00 |
| Obverse Designer | Ian Rank-Broadley |
| Reverse Designer | Wade Robinson |
The 2012 Australian Kangaroo High Relief Silver Proof Coin is housed in a display case accompanied by a numbered certificate of authenticity inside an illustrated shipper. Orders may be placed directly at the Perth Mint website.
Ad Banner to Perth Mint Website

See additional Perth Mint product highlights from this site's guide of Australian coins.
About the Perth Mint
The Perth Mint (www.perthmint.com.au) is the official issuer of the Australian Federal Government's Gold and Silver Bullion Coin Program. It was Australia's third branch of Britain's Royal Mint when it opened in 1899 (the others being the Sydney Mint and the Melbourne Mint, which are both now closed).
Ownership of the Perth Mint was transferred to the State Government of Western Australia in 1970 who still operates the facility today.