Offered as the third release in a series of 99.99% silver issues showcasing the Great Lakes is the proof 2014 Lake Erie 1 oz Fine Silver Coin.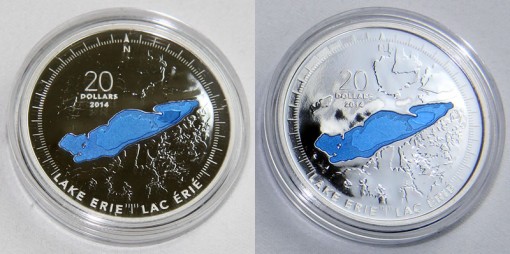 Similar to past releases, the Lake Erie silver coin offers an interpretation of a bathymetry map of the lake with colored enamel representing the water.
Lake Erie is the smallest of the Great Lakes in terms of volume. Its water is supplied by the three upper Great Lakes — Superior, Michigan, and Huron, with Lake St. Clair and the St. Clair River also contributing. The size of the five Great Lakes together is so massive, they can be seen from the moon.
Lake Erie Silver Coin Designs and Specifications
Contrasting against the bathymetry map of the lake is the coin's raised elements representing the surrounding land area. Translucent blue colored enamel draws attention to the water and its depth. Inscriptions around the scene include 2014, the legal tender face value of 20 DOLLARS, LAKE ERIE and the French name of the lake, LAC ERIE.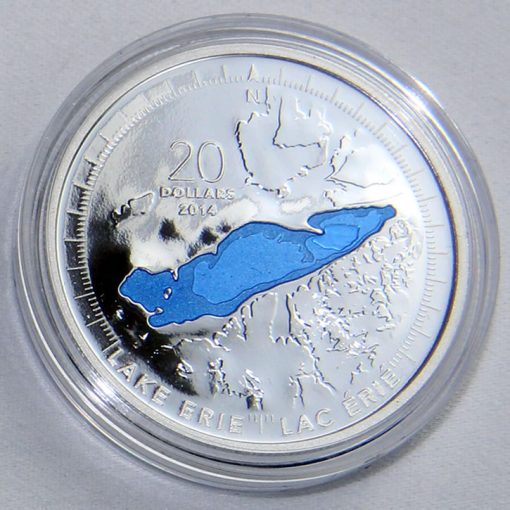 As legal tender of Canada, obverses show Susanna Blunt's effigy of Queen Elizabeth II with inscriptions of ELIZABETH II and D G REGINA.
Great Lake series coin specifications include:
Mintage – 10,000
Composition – fine silver (99.99% pure)
Finish – proof
Weight (g) – 31.39
Diameter (mm) – 38
Edge – serrated
Certificate – serialized
Face value – 20 dollars
Artist – Susanna Blunt (obverse)
Coins in Great Lake Series
The series debuted in November 2013 and will offer coins depicting all five Great Lakes with:
Lake Superior Silver Coin – released November 2013
Lake Ontario Silver Coin – released March 2014
Lake Erie Silver Coin – this issue
Lake Michigan Silver Coin – due for release in October 2014
Lake Huron Silver Coin – due for release in February 2015
Here is a photo of the first three coins from the series:
Ordering and Subscription Option
Individual Lake Erie silver coins may be ordered directly from the Royal Canadian Mint (mint.ca) for CAD $114.95, or about US $104.72. Ordering and additional information can be found by following the affiliate link to the coin's product page located here
.
Subscribers to the Great Lake series get each new issue as they are released and received a special five-coin display case. The Mint's subscription online product page is right here.