The proof 2014 Lake Ontario 1 oz Fine Silver Coin is now available as the newest issue in the Great Lakes series of 99.99% pure silver coins from the Royal Canadian Mint.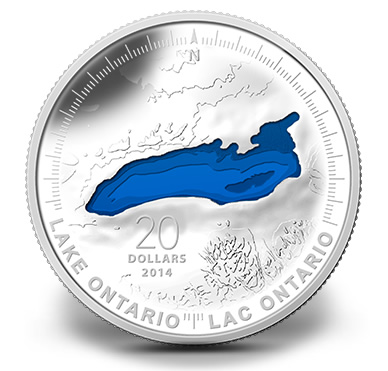 Coins of the Great Lakes series are unique in that they feature a raised field representing the land surrounding a translucent enamel filled lake. The series when completed will depict all five of the Great Lakes. The Lake Superior coin debuted last November. Subsequent strikes will showcase Lake Erie (June 2014), Lake Michigan (October 2014) and Lake Huron (February 2015).
The Great Lakes are a series of connected fresh-water lakes in North America. They can be found along the Canada-United States border with Lake Ontario the furthest east of the five lakes.
"More than one-quarter of Canada's population lives within the Lake Ontario watershed," offers the Royal Canadian Mint on its website. "Bordered by the province of Ontario and New York State, Lake Ontario is the final gateway in the Great Lakes' hydrologic journey to the Atlantic Ocean."
It is estimated that the combined Great Lakes hold about 20% of the Earth's freshwater supply.
Lake Ontario Silver Coin Designs and Specifications
Each 2014 Lake Ontario Silver Coin is struck from one-half ounce of 99.99% pure silver. Found on the reverse is a bathymetric map representation of Lake Ontario filled with translucent blue enamel. Surrounding the lake, raised elements represent the land surrounding the Great Lake. Points of a compass complete the reverse design. Inscriptions include "20 DOLLARS," "2014," "LAKE ONTARIO" and "LAC ONTARIO."
The obverse showcases Susanna Blunt's portrait of Queen ELIZABETH II. Inscriptions surrounding the portrait include "ELIZABETH II" and "D G REGINA."
Additional specifications of the 2014 Lake Ontario Silver Coin are as follows:
Mintage – 10,000
Composition – fine silver (99.99% pure)
Finish – proof
Weight (g) – 31.39
Diameter (mm) – 38
Edge – serrated
Certificate – serialized
Face value – 20 dollars
Artist – Susanna Blunt (obverse)
Ordering and Subscription Option
Individual coins may be ordered directly from the Royal Canadian Mint with a current price of CAD $114.95, or about US $104. There is a three-coin household ordering limit. An affiliate link to the coin's product page is right here
.
The complete series is also currently available as part of a subscription program. Under the subscription, coins are shipped when issued. A special five-coin display case is also included with each subscription purchase. An affiliate link to the subscription online product page is right here.
The Lake Ontario Silver Coin is encapsulated and presented in a Royal Canadian Mint-branded maroon clamshell case. A serialized certificate is also included.