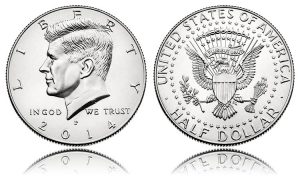 Pricing is now known for two of the three anniversary products that celebrate the Kennedy half-dollar semicentennial.
Earlier in the week the United States Mint added the upcoming two-coin clad set to its product schedule with a price and today a public notice listed pricing for the four-coin silver set. The notice, dated June 17 and available next week on the Federal Register, also offers names for the two sets. Product names, prices, and contents of the sets are:
| Product Name | # of Coins | Composition of Coins | Silver Melt Value | Price | Release Date |
| --- | --- | --- | --- | --- | --- |
| 50th Anniversary Kennedy Half-Dollar Uncirculated Coin Set | 2 | 8.33% Nickel, Balance Copper | $0 | $9.95 | July 24 |
| 50th Anniversary Kennedy Half-Dollar Silver Coin Collection | 4 | 90% Silver, 10% Copper | $29.83 | $99.95 | TBD |
The link in the first paragraph jumps to a CoinNews.net article that outlines the upcoming products in detail, so very briefly:
The 50th Anniversary Kennedy Half-Dollar Uncirculated Coin Set has two uncirculated Kennedy halves with one from the Philadelphia Mint and the other from the Denver Mint.

The 50th Anniversary Kennedy Half-Dollar Silver Coin Collection includes a regular proof from the Philadelphia Mint, a reverse proof from the West Point Mint, an enhanced uncirculated half-dollar from the San Francisco Mint and a regular uncirculated half-dollar from the Denver Mint. As indicated by the chart above, its release date has not yet been announced.
All six of these coins have unique obverses that offer a higher relief portrait of Kennedy as originally designed in 1963 by Gilroy Roberts. Reverses bear the standard Heraldic Eagle as designed by Frank Gasparro and seen on Kennedy halves issued since 1964.
Silver Set's Melt Value
Collectors should be mostly comfortable with the $99.95 price of the four-coin silver set, or about $25 per coin.
Breaking down the numbers, each half-dollar from the set has a melt or intrinsic silver value of $7.46 at Friday's London silver Fix price of $20.62. Combining the four silver coins, the set has a silver weight of 1.44 troy ounces and an intrinsic value of $29.83, placing its premium over melt at about $70. That may seem high but probably not to the Mint since there is other set expenses it has to pay on top of silver costs to include bills for labor, tooling, production, marketing, and special packaging.
50th Anniversary 24K Kennedy Gold Coin
The remaining anniversary product is a dual-dated 1964-2014 Kennedy half-dollar that is West Point struck in about three-quarters of an ounce of 24-karat, or 99.99% fine gold. The gold piece launches on Aug. 5 during the ANA World's Fair of Money. Prices of numismatic gold coins from the U.S. Mint are determined by the London Fix weekly average of gold and calculated each Wednesday. That means pricing for the 24K Kennedy gold coin will not likely be known until July 30.