The Commission of Fine Arts (CFA) and Citizens Coinage Advisory Committee (CCAC) have recommended designs for the commemorative March of Dimes Silver Dollar.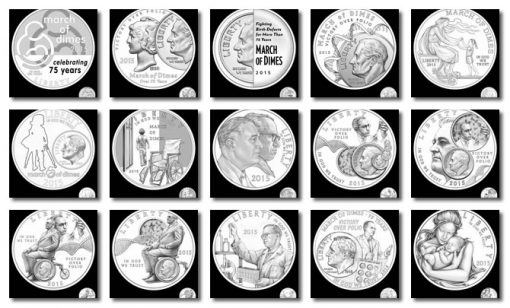 In 2015, the United States Mint will strike and sell up to 500,000 silver dollars in collector proof and uncirculated qualities to celebrate the 75th anniversary of the March of Dimes Foundation. The coins are authorized by the March of Dimes Commemorative Coin Act, Public Law 112-209, which passed Congress and was signed into law by President Obama on Dec. 18, 2012.
Established on Jan. 3, 1938 by President Franklin D. Roosevelt, the then named National Foundation for Infantile Paralysis was created to combat the polio epidemic. Now called the March of Dimes in remembrance of public fund-raising campaigns to contribute dimes for support, the foundation's mission has refocused as it works to reduce the incidence of preterm birth, infant mortality, birth defects, and lifelong disabilities and disorders.
Recommended Designs
Public Law 112-209 states that designs of the silver dollar must have themes representing the past, present, and future of the March of Dimes and its role as champion for all babies. With that in mind, 40 candidate designs were created — 22 for the obverse and 18 for the reverse.
The CFA reviewed them on May 15, and the CCAC went through them today, May 19. Recommendations for each body diverged, though each selected designs that the March of Dimes preferred over others.
CFA's choice for the silver dollar obverse, candidate design MOD-O-09, features a Roosevelt dime, a dime board used to collect contributions to the March of Dimes, and Dr. Jonas Edward Salk who discovered and developed the first successful anti-polio vaccine. The CFA liked candidate design MOD-R-16 for the reverse, which features two fingers sliding a 1946 Roosevelt dime into a donation card, and a pair of empty children's polio braces. In changes to both designs, the CFA recommended that the dime board on the obverse move to the reverse, replacing the two fingers.
Two obverse silver dollar designs rose to the top in CCAC voting. Candidate design MOD-O-14 earned one more vote than MOD-O-15, but eventually lost after a motion passed to select MOD-O-15 as a majority of members felt it paired better with the chosen reverse. The selected design features a double portrait of President Franklin D. Roosevelt and Dr. Jonas Salk. The CCAC's recommended reverse, MOD-R-7, symbolizes a mother's love for her child and was inspired by the many success stories of the March of Dimes.
The Treasury Secretary will make the final decisions with all recommendations considered after consulting with the March of Dimes. The two winning designs will be announced later this year.
Line art images of all 40 designs appear below. Captions under some images offer further information, such as whether they were preferred by the March of Dimes.
Obverse 2015 March of Dimes Silver Dollar Design Candidates
Here are images of the 22 proposed obverse (heads side) silver dollar designs:
Reverse 2015 March of Dimes Silver Dollar Design Candidates
Here are images of the 18 proposed reverse (tails side) silver dollar designs: