The United States Mint on Thursday released images of the March of Dimes Silver Dollar, the second commemorative coin program of 2015 that was authorized by Public Law 112-209 to celebrate the 75th anniversary of the March of Dimes.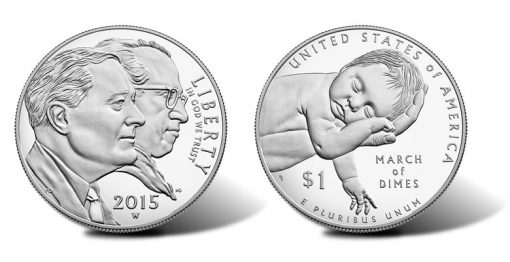 Up until now, only line-art images of the dollar had been available. Those were revealed late last year following the end of a selection process that included reviews of 40 proposed designs.
On the obverse or heads side of the silver dollar are profile portraits of two individuals with strong historical ties to the March of Dimes and its fight against polio — President Franklin D. Roosevelt and Dr. Jonas Salk. Inscriptions are "LIBERTY," "IN GOD WE TRUST" and "2015." This design was created by United States Mint Artistic Infusion Program artist Paul C. Balan and executed by U.S. Mint Sculptor-Engraver Michael Guardioso.
The reverse offers a design emblematic of the March of Dimes commitment to healthy babies. It depicts a baby cuddled in the hand of a parent as designed and sculpted by United States Mint Sculptor-Engraver Don Everhart. Reverse inscriptions include "UNITED STATES OF AMERICA," "E PLURIBUS UNUM," "$1" and "MARCH OF DIMES."
These two designs will be featured on two collectible versions, a proof silver dollar minted at the U.S. Mint facility in West Point (shown above) and an uncirculated silver dollar struck at the U.S. Mint facility in Philadelphia (shown below).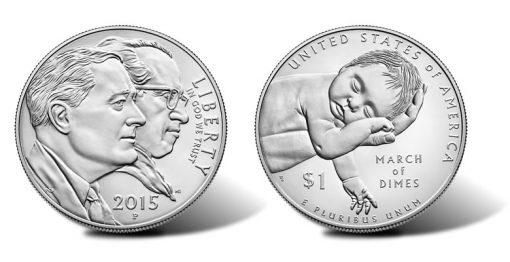 Specifications of the coins are the same as other modern commemorative silver dollars. This includes a composition of 90% silver and 10% copper, a weight of 26.730 grams and a diameter of 1.500 inches.
According to the U.S. Mint's online product schedule, they will be released for sale to the public on March 13, 2015. Pricing is yet to be determined but should fall in line with other similar products such as the just released U.S. Marshals Silver Dollars. The proof U.S. Marshals Silver Dollars are now available at the introductory pricing of $46.95 with the uncirculated offered for $43.95. Introductory pricing typically lasts for four weeks before regular pricing kicks in at $5 higher.
Prices will include a $10 surcharge for the March of Dimes Foundation to help finance research, education, and services aimed at improving the health of women, infants, and children.
Also, of note, the United States Mint indicates a 2015 March of Dimes Special Set will be offered later in the year. Details of the set have not been announced.
As directed by the March of Dimes Commemorative Coin Act, Public Law 112-209, up to 500,000 of the collectible silver dollars may be sold.
Larger images of the two silver dollar versions are immediately below. When in hand, the proof coin shows a sharp contrast of frosted designs and mirror-like backgrounds. Uncirculated coins look more like a brand new coin found in circulation.