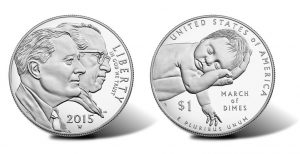 United States Mint prices are now known for the silver dollars commemorating the 75th anniversary of the establishment of the March of Dimes Foundation.
There are no surprises. The two collectible silver dollars with an on-sale date of March 13, 2015 will launch at introductory prices of $46.95 for the proof and $43.95 for the uncirculated. These match the commemorative U.S. Marshals Service 225th Anniversary Silver Dollars that went on sale earlier this year.
News of the prices come from a U.S. Mint notice that is scheduled to appear Thursday in the Federal Register, the official source of notices by government agencies.
Here is a mintage and pricing table for the commemorative 2015 March of Dimes products:
Mintages
Introductory Prices
Regular Prices
Proof Silver Dollar
500,000
$46.95
$51.95
Uncirculated Silver Dollar
$43.95
$48.95
Introductory prices last for the first 30 days of sales, and then regular pricing begins. Above prices include surcharge amounts of $10 per silver dollar, as mandated by Public Law 112-209. Provided the coins make a profit, the collected surcharges will go to the Foundation to help finance research, education, and services aimed at improving the health of women, infants, and children.
As discussed last Friday, the United States Mint will also release a special March of Dimes Silver Set that'll include a proof silver dollar, a proof Roosevelt dime and a reverse proof Roosevelt dime.
Established on Jan. 3, 1938 by President Franklin D. Roosevelt, the then named National Foundation for Infantile Paralysis was created to combat the polio epidemic. Today, the Foundation supports programs and funding related to the promotion of healthy pregnancies and healthy babies.