Launching today, March 27 at noon ET, are the first curved coins ever struck by the United States Mint. Highly anticipated and available at introductory prices are the 2014 National Baseball Hall of Fame Commemorative Coins in denominations of $5 gold, $1 silver and 50c clad.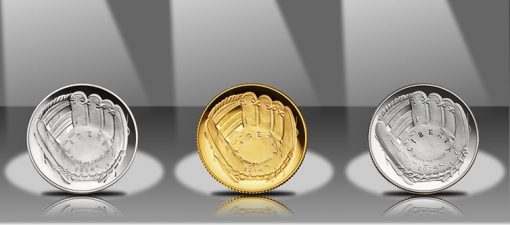 Celebrating the 75th or diamond anniversary of the National Baseball Hall of Fame, each curved coin is available in numismatic qualities of proof and uncirculated for a total of six product options.
Note: This coin news article includes design details, prices, U.S. Mint ordering options and several images of the coins. An article published two weeks ago offers many more coin images that may help further in a buying decision.
Baseball Coin Designs and Curved Shapes
Obverses or heads side of the commemorative coins depict Cassie McFarland's winning baseball glove design with National Baseball Hall of Famers Joe Morgan, Brooks Robinson, Ozzie Smith, Don Sutton, and Dave Winfield among the judges.
Her rendition inspired by a well-loved and well-used family glove competed against 177 other designs in a public contest outlined by law. Inscriptions within the glove read: LIBERTY, IN GOD WE TRUST and the year of issue, 2014. The glove design also highlights the concavity of the coins.
Gracing the reverse or tails side of each coin is Don Everhart's depiction of a baseball. Reverses are convex in shape, and include inscriptions of UNITED STATES OF AMERICA, E PLURIBUS UNUM and either FIVE DOLLARS, ONE DOLLAR or HALF DOLLAR.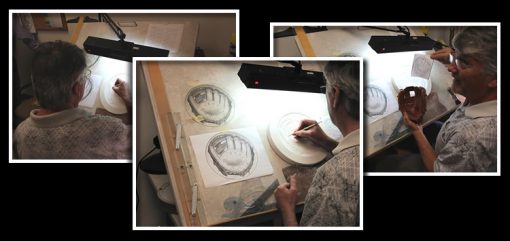 Everhart sculpted his and McFarland's design so they could be scanned and cut into metal hubs and then dies. These dies are placed inside coining presses at the U.S. Mints in Philadelphia, West Point, Denver and San Francisco so they can strike incoming metal discs called planchets and create the baseball commemoratives.
Prices for the National Baseball Hall of Fame Commemorative Coins
Mintages, introductory prices and regular prices for the six coins are:
Mintages
Introductory Prices
Regular Prices
Proof 50c Clad Half-Dollar
750,000
$19.95
$23.95
Uncirculated 50c Clad Half-Dollar
$18.95
$22.95
Proof Silver Dollar
400,000
$51.95
$56.95
Uncirculated Silver Dollar
$47.95
$52.95
Proof $5 Gold Coins
50,000
$424.75
$429.75
Uncirculated $5 Gold Coins
$419.75
$424.75
The listed mintages are the maximum number of curved coins that may be produced. Laws about commemorative coins tend to be very generous with these totals. In reality, the U.S. Mint will only produce enough coins to fulfill demand, and only sell them through to the end of 2014.
Also, pricing is static for the silver and clad coins but it may change every Wednesday for two gold coins. Current prices are based on a weekly average of the London gold fixing that sits within $1,350.00 to $1,399.99 an ounce. Every $50 movement outside that range, up or down, will result in a $12.15 adjustment in the price of the gold coins.
Introductory pricing ends on April 28, 2014 at 5 p.m. ET, when regular pricing takes effect. Buyers will then have to pay $4 more for each clad half-dollar and $5 more for each silver and gold coin.
Finally, prices include surcharges of $35 for each gold coin, $10 for each silver dollar, and $5 for each half-dollar. These amounts are paid to the National Baseball Hall of Fame to help fund its operations.
Ordering, Limits and Online Waiting Room
When released at noon ET, any or all the 2014 National Baseball Hall of Fame Commemorative Coins may be ordered from the U.S. Mint online store.
U.S. Mint Page for Ordering Commemoratives
Also, orders are accepted at 1-800-USA-MINT (872-6468), while hearing- and speech-impaired customers with TTY equipment may order at 1-888-321-MINT.
In addition to the mintage limits discussed earlier, the U.S. Mint has also implemented household ordering limits of:
50 for each of the $5 gold coins,
100 for each of the silver dollars, and
100 for each of the clad half-dollars
These amounts may later change.
"These coins commemorate important aspects of American history and culture, so we want to make sure a maximum number of customers have an opportunity to purchase this coin," said U.S. Mint Deputy Director Dick Peterson. "We will evaluate these ordering limits on a regular basis and adjust or remove them accordingly," Peterson added.
Due to the large demand expected, the U.S. Mint will also turn on its "Online Waiting Room." The Mint offered these reminders about its waiting room feature.
Customers can enter the waiting room to 'get in line' to enter the website and make their purchase, and the waiting room will tell customers how long they have to wait before entering the catalog website.

While in the waiting room, they may open other tabs in their browser or another browser window to visit other websites.

Customers also will have the option to leave and come back later to shop when there is less traffic on the site.

They will be informed that they will lose their place in line if they close the waiting room browser window to leave the waiting room.
Coin Specifications and Compositions
Design requirements, coin denominations, major specifications and how many can be made are all outlined by the National Baseball Hall of Fame Commemorative Coin Act, Public Law 112-152, which was enacted on Aug. 3, 2012. The following tables offer major technical details for each type of coin.
$5 Gold Coin Specifications


| | |
| --- | --- |
| Weight: | 8.359 grams nominal |
| Composition: | 90% gold, 10% alloy |
| Mintage Limit: | 50,000 across all product options |
| Height of Dome: | 0.085 inches |
| Mint Marks: | 'W' for West Point – Proof and Uncirculated |
Silver Dollar Coin Specifications


| | |
| --- | --- |
| Weight: | 26.73 grams nominal |
| Composition: | 90% silver, 10% copper |
| Mintage Limit: | 400,000 across all product options |
| Height of Dome: | 0.150 inches |
| Mint Marks: | 'P' for Philadelphia – Proof and Uncirculated |
Half-Dollar Clad Coin Specifications

Weight:
11.34 grams nominal
Composition:
92% copper, 8% nickel
Mintage Limit:
750,000 across all product options
Height of Dome:
0.058 inches
Mint Marks:
'D' for Denver Mint, Uncirculated;
'S' for San Francisco Mint, Proof
As the tables show, the commemorative coins each have different dome heights — 0.150 inches (3.81 mm) for the $1 silver dollars, 0.085 inches (2.159 mm) for the $5 gold coins and 0.058 inches (1.4732 mm) for the 50c clad coins.
These heights came from trial and error. It was easiest for silver dollars to have a higher dome since they have a larger diameter and more metal to flow and fill into the designs during striking. The half-dollar was the most difficult. Sizes, compositions and die life all contributed to the eventual dome height specifications.