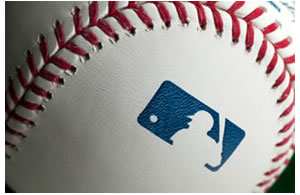 Commemorative coins honoring the National Baseball Hall of Fame are coming in 2014.
Introduced on July 14, 2011 by Rep. Richard L. Hanna [R-NY24], the National Baseball Hall of Fame Commemorative Coin Act passed in the House on October 26, 2011 and an amended version was just approved in the Senate on Thursday, July 12, 2012. After reconciling, the last major step before the Act becomes law is winning the signature of the President. That is expected in a matter of weeks.
Numbered H.R. 2527, the Act instructs the Treasury Secretary and thereby the U.S. Mint to strike up to 50,000 $5 gold coins, 400,000 silver dollars and 750,000 clad half-dollars to commemorate the National Baseball Hall of Fame during its 75th anniversary in 2014. The senate amended the original version's 2015 issue year to 2014. Collector proof and uncirculated qualities are authorized.
Two unique provisions are within the legislation. H.R. 2527 calls for a judged competition to select proposed obverse designs for the commemorative coins and it also states that the $5 gold coin and silver dollar should have concave and convex shapes to resemble a baseball.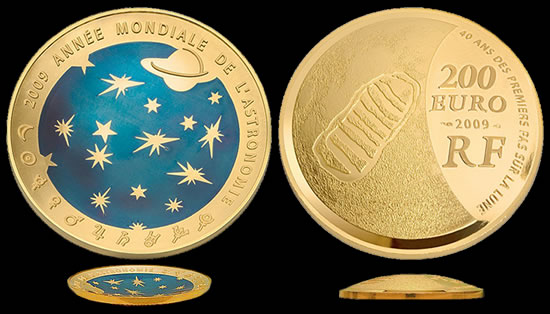 The shape would be similar to the 2009 International Year of Astronomy coins issued by Monnaie de Paris, the French Mint.
Obverse designs must be emblematic of the game of baseball while reverses must depict a baseball similar to those used by Major League Baseball. Designs created will get reviewed by the Citizens Commemorative Coin Advisory Committee (CCAC). The Treasury Secretary is charged with selecting from the final proposals after consulting with the National Baseball Hall of Fame and the Commission of Fine Arts (CFA).
As is standard for modern American commemorative coins, the bill includes surcharge language. In this case, sales of each coin offered by the U.S. Mint would include surcharges in the amounts of $35 for each $5 gold coin, $10 per silver dollar and $5 for each clad half-dollar. Collected funds would be paid to the nonprofit National Baseball Hall of Fame and Museum, located in Cooperstown, N.Y., to help finance its operations.