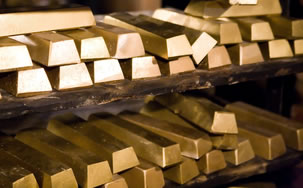 Gold prices advanced Friday for the first time in five sessions, but the yellow metal still tripped on the week after jumping last week to end at a six-month high.
Gold for April delivery climbed $5.50, or 0.4%, to settle at $1,336 an ounce on the Comex division of the New York Mercantile Exchange. Gold prices declined $43, or 3.1%, from a week ago, pressured by bearish Fed news and easing safe-haven demand.
"Gold has had an interesting ride as it pinballs between Crimea fears and Fed expectations," MarketWatch quoted Jonathan Citrin, founder and executive chairman of CitrinGroup.

"On the week, [Fed] Chairwoman Janet Yellen's press conference pushed speculators away from the precious metal as anticipation of nearer-term rising rates became more commonplace."
Gold Outlook and YTD Gains
Participants in the latest Kitco News Gold Survey have mixed expectations for the coming days after most missed the mark by forecasting gains this week.
In the new survey, "out of 33 participants, 18 responded this week. Six see prices up, while eight see prices down and four see prices trading sideways or neutral," Kitco reported.

"Those who see weaker prices said gold needs to recalibrate after this week's sharp rally and subsequent fall… Those who see higher prices expect gold to add to its rebound from this week's lows… Those who are neutral see prices trading sideways said gold needs to consolidate after this week's large price swings."
Despite gold's weekly loss, the precious metal on the year still boasts a soaring increase of $133.70, or 11.1%, since ending last year at $1,202.30 an ounce.
Silver, Platinum and Palladium Futures
Silver extended its losing streak to five sessions Friday with May silver off 12 cents, or 0.6%, to $20.31 an ounce. Silver prices tumbled on the week by 5.2%, cutting its yearly gain by more than half to 4.9%.
Like gold, PGM futures advanced on Friday. They split for the week. In the breakdowns:
April platinum inched up $1.20, or less than 0.1%, to $1,433.60 an ounce, but dropped 2.3% from a week ago.

Palladium for June delivery rallied $17.65, or 2.3%, to $789.30 an ounce, advancing 2.1% since last Friday.
Both remain higher on the year so far with gains of 4.5% for platinum and 9.9% for palladium.
London Fix Precious Metals
London bullion fixings advanced Friday but dropped on the week. When comparing the London fix prices from Thursday PM to Friday PM:
Gold rose $9, or 0.7%, to $1,336 an ounce,
Silver gained 38 cents, or 1.9%, to $20.55 an ounce,
Platinum turned up $3, or 0.2%, to $1,439 an ounce, and
Palladium lost $35, or 4.6%, to $789 an ounce
Weekly losses stacked to 3.5% for gold, 3.8% for silver, 2.6% for platinum and 1.2% for palladium.
US Mint Bullion Coin Sales in March
U.S. Mint bullion sales were solid on the week with demand for gold coins up and silver coins nearly on par with their robust performance last week. In week-over-week bullion sales comparisons:
American Platinum Eagle sales added 300 after the 8,700 total from last week when they debuted for the first time since 2008. Annual sales that year reached 33,700 ounces.

Gold coin sales rose 11,500 ounces against last week's 9,000 ounces. Splits were 7,000 ounces in American Gold Eagles compared to 7,500 ounces previously, and 4,500 ounces in American Gold Buffalo coins versus 1,500 ounces previously.

American Silver Eagle sales rose 983,500 against last week's 1,200,000. The coins passed year-to-date sales of 11 million on Monday and ended the week above 11.8 million, which is more than each of the annual totals from the series start in 1986 through to 2007.

America the Beautiful Five Ounce Silver Bullion Coins scored 10,500 with the release on Monday of the piece commemorating Great Smoky Mountains National Park in Tennessee. It is the first five ounce issue of the year. As noted in a sales column on Wednesday, the total marks a strong start. The last bullion coin featured Mount Rushmore National Memorial. It started with first week sales of 6,000; moved up by the second week to 25,100; and then sold out in the third week at 35,000.
Below is a sales breakdown across U.S. Mint bullion products with columns offering the number of bullion coins sold on Friday, last week, this week, last month, the month-to-date, and the year-to-date.
American Eagle and Buffalo Bullion Sales (# of coins)
Friday Sales
Sales Last Week
Weekly Sales
February Sales
March Sales
YTD Sales
$100 American Platinum Eagle Bullion Coins
200
8,700
300
N/A
9,000
9,000
$50 American Gold Eagle Bullion Coins
3,500
4,000
7,000
22,000
12,000
96,500
$25 American Gold Eagle Bullion Coins
0
2,000
0
3,000
2,000
17,000
$10 American Gold Eagle Bullion Coins
0
4,000
0
10,000
4,000
42,000
$5 American Gold Eagle Bullion Coins
0
15,000
0
50,000
25,000
235,000
$50 American Buffalo Gold Bullion Coins
1,000
1,500
4,500
12,000
10,000
63,500
$1 American Silver Eagle Bullion Coins
140,500
1,200,000
983,500
3,750,000
3,283,500
11,808,500
Great Smoky Mountains National Park 5 Oz Bullion Coins
0
N/A
10,500
N/A
10,500
10,500