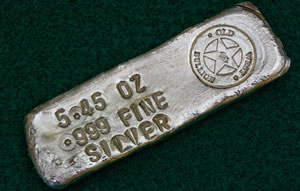 Gold prices rallied Friday, snapping a string of four straight losing sessions and closing above $1,300 an ounce to notch a modest weekly gain of 0.2%.
Gold for June delivery on Friday advanced $19.50, or 1.5%, to close at $1,302.90 an ounce on the Comex division of the New York Mercantile Exchange. Safe-haven buying was attributed to the day's increase.
Gold's seeing "true safe-haven demand as the Ukrainian military has moved to take back the eastern portion of their country and as a result two Ukrainian helicopters have been shot down," MarketWatch quoted Jeffrey Wright, managing director at H.C. Wainwright. "Clearly an escalation of the crisis could result in a broader confrontation between forces loyal to Ukraine and those wishing to join Russia."
Gold Outlook and YTD Gains
Majority participants in the latest Kitco News survey expect gold prices to fall next week after having correctly predicted the gain this week. Eleven forecast lower gold prices while 4 see them higher and 4 see them sideways to unchanged.
"China's weak manufacturing number and improved economic reports — and the Fed's response — in the U.S. suggest gold may be weak or flat next week," said Adrian Day, president and chief executive officer of Adrian Day Asset Management. "But with the Ukraine situation unsettled, I would not want to be out of gold and we could see a bounce any time."
Gold prices this year have advanced $100.60, or 8.4%, since the 2013 closing of $1,202.30 an ounce. On Wednesday, gold ended April higher by 0.9%.
Silver, Platinum and Palladium Futures
Silver and platinum also settled higher Friday but palladium retreated. In their breakdowns for the day and week:
Silver for July delivery surged 51 cents, or 2.7%, to $19.55 an ounce, slipping 0.7% for the week.

July platinum tacked on $13.20, or 0.9%, to $1,440.70 an ounce, advancing 1.2% on the week.

Palladium for June delivery declined $1.75, or 0.2%, to $812.40 an ounce, inching up 0.2% for the week.
As for the year so far, gains include 0.9% for silver, 4.9% for platinum and 13.1% for palladium.
London Fix Precious Metals
London bullion prices climbed Friday but split on the week. When comparing London fix prices from Thursday PM to Friday PM:
Gold rose $2.75, or 0.2%, to $1,281.25 an ounce,
Silver added 11 cents, or 0.6%, to $19.17 an ounce,
Platinum gained $13, or 0.9%, to $1,425 an ounce, and
Palladium added $1, or 0.1%, to $816 an ounce
Weekly results tuned in at losses of 1.5% for gold and 2.5% for silver and gains of 0.5% for platinum and 1.4% for palladium.
US Mint Bullion Sales in March
Demand this week for U.S. Mint bullion products rebounded for gold coins and eased for silver coins. In week-over-week comparisons:
Gold coin sales increased 12,500 ounces following a pick-up of 5,000 ounces last week. Splits were 7,500 ounces in American Gold Eagles compared to 4,000 ounces previously and 5,000 ounces in American Gold Buffalos after 1,000 ounces previously.

American Silver Eagles tacked on 1,086,500 compared to last week's 1,246,500. The silver coins topped the year-to-date mark of 18 million on Tuesday and are now above 18.6 million. Sales have never been quicker.

America the Beautiful Five Ounce Silver Bullion Coins were flat. The U.S. Mint on April 21 said it temporarily sold out of the coins and that it would have additional inventory available in a few weeks.

In the eighth full week of release after a five-year hiatus, American Platinum Eagles climbed 200 after rising 100 in the previously.
Below is a sales breakdown of U.S. Mint bullion products with columns listing the number of bullion coins sold on Friday, last week, this week, last month, the month so far, and the year-to-date.
American Eagle and Buffalo Bullion Sales (# of coins)
Friday Sales
Sales Last Week
Weekly Sales
April Sales
May Sales
YTD Sales
$100 American Platinum Eagle Bullion Coins
0
100
200
1,200
0
11,200
$50 American Eagle Gold Bullion Coins
0
3,000
3,500
26,000
0
126,500
$25 American Eagle Gold Bullion Coins
0
0
4,000
5,000
0
22,000
$10 American Eagle Gold Bullion Coins
0
2,000
0
20,000
0
62,000
$5 American Eagle Gold Bullion Coins
5,000
5,000
20,000
55,000
5,000
295,000
$50 American Buffalo Gold Bullion Coins
1,500
1,000
5,000
17,500
1,500
84,500
$1 American Eagle Silver Bullion Coins
171,000
1,246,500
1,086,500
4,590,500
171,000
18,640,500
Great Smoky Mountains National Park 5 Oz Silver Bullion Coins
N/A*
600
N/A*
10,600
0
23,000