A relative rarity becomes available to everyone, for a limited time, with the Royal Canadian Mint's release of the 2014 50-cent Special Wrap Circulation Roll.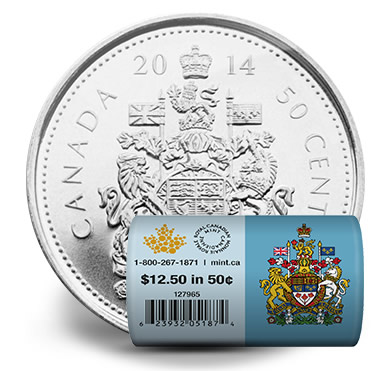 Inside the specially-wrapped rolls are twenty-five Canadian 50-cent coins. Mintage of this release is limited to 20,000 with a household ordering limit of three units.
Previous 50-cent circulation rolls were quick to sell out, not only because of the limited mintage, but also because the coins found inside are hard to come by. Since 2004, Canadian 50-cent coins have not been issued for general circulation. That means new coins are only available for purchase in numismatic products such as this release.
Shown on the reverse of each 50-cent coin is Canada's Coat of Arms. The design was proclaimed by King George V in 1921 and is a representation of the political history of Canada. Included in the design are images from France (the fleur-de-lis), England (the three royal lions and rose), Scotland (royal Scottish lion and thistle), and Ireland (the royal Irish harp of Tara and shamrock).
"Although proclaimed in 1921, Canada's Coat of Arms did not appear on the fifty-cent piece until 1937, and it was not until 1959 that the design was modified to include Canada's motto: A Mari Usque ad Mare — 'from sea to sea'," notes a statement on the Royal Canadian Mint's website. "In 1997, the first fifty-cent pieces featuring the addition of the Order of Canada's motto were struck."
In addition to the Coat of Arms, the reverse of each coin includes the inscriptions of "CANADA," "2014" and "50 CENTS."
Obverses depict Susanna Blunt's effigy of Queen Elizabeth II. Inscriptions surrounding the portrait include "ELIZABETH II" and "D G REGINA."
Fifty-cent coins made their debut in Canada on Jan. 2, 1908 when Governor General Earl Grey struck the nation's first domestically produced supply — King Edward VII 50-cent pieces. They were issued for circulation until the aforementioned 2004.
Special illustrated paper is used to wrap the twenty-five coins of the roll. To the right, a colored likeness of Canada's Coat of Arms can be seen. The left shows the Royal Canadian Mint's logo along with a bar-code and "$12.50 in 50¢" or "12,50$ en 50¢," depending upon the side of the roll.
The roll of three-ply nickel finish plated steel circulation quality coins may be ordered directly from the Royal Canadian Mint via the website of www.mint.ca.
Here is an affiliate link to all new products from the Mint
.