In saying a final farewell to the Canadian penny, the Royal Canadian Mint set aside the last million pennies produced for circulation, placed them within special commemorative wrapped rolls and made them available to the public.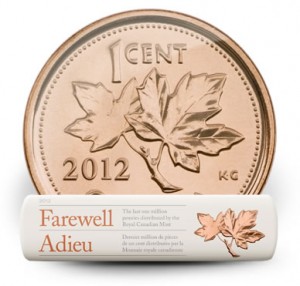 Limited to 20,000 worldwide and one per household, collectors can buy a 50-coin roll of the last Canadian pennies for $9.95.
"With every new collector product, the Royal Canadian Mint turns to a new page in the never ending story of Canada and we are proud to have captured an unforgettable moment by commemorating the last distribution of Canada's penny," said Ian E. Bennett, President and CEO of the Royal Canadian Mint.
These special rolls are authenticated to be a part of the last million Canadian pennies distributed for circulation with a serialized holographic label.

Reverses of the penny feature G.E. Kruger-Gray's iconic 1937 design that has appeared on every one-cent coin from 1937 to 2012, excluding 1967. That is, of course, the famous image of two five-lobed maple leaves that are attached by their stems to a small twig. Inscriptions include '2012', 'CANADA,' '1 CENT' and 'KG' for the designer.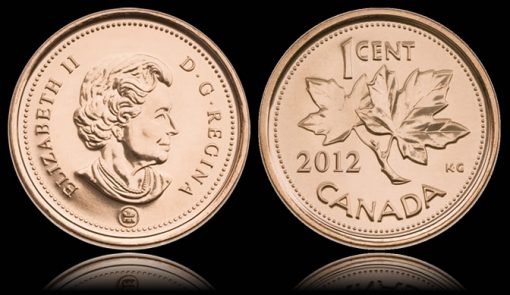 Obverses feature Susan Blunt's effigy of Queen Elizabeth II with inscriptions of 'QUEEN ELIZABETH II' and 'D·G·REGINA.'
The Mint's product page for rolls of circulation quality Canadian pennies is located here.
Canadian pennies were officially retired Feb. 4, 2013 as the Royal Canadian Mint ended its distribution of them to financial institutions. The coin was eliminated from the Canada's coinage system in the Economic Action Plan 2012 as a cost-saving measure meant to save taxpayers an estimated $11 million annually. In recent years, the cost to produce each penny climbed to 1.6 cents. With the penny phased out, the Royal Canadian Mint now reports that all of its coins for circulation cost less to produce than each of their face values.
The penny continues as a legal tender coin and may be used indefinitely with anyone choosing to accept them, but businesses are encouraged to begin rounding cash transactions to the nearest five cent increment.